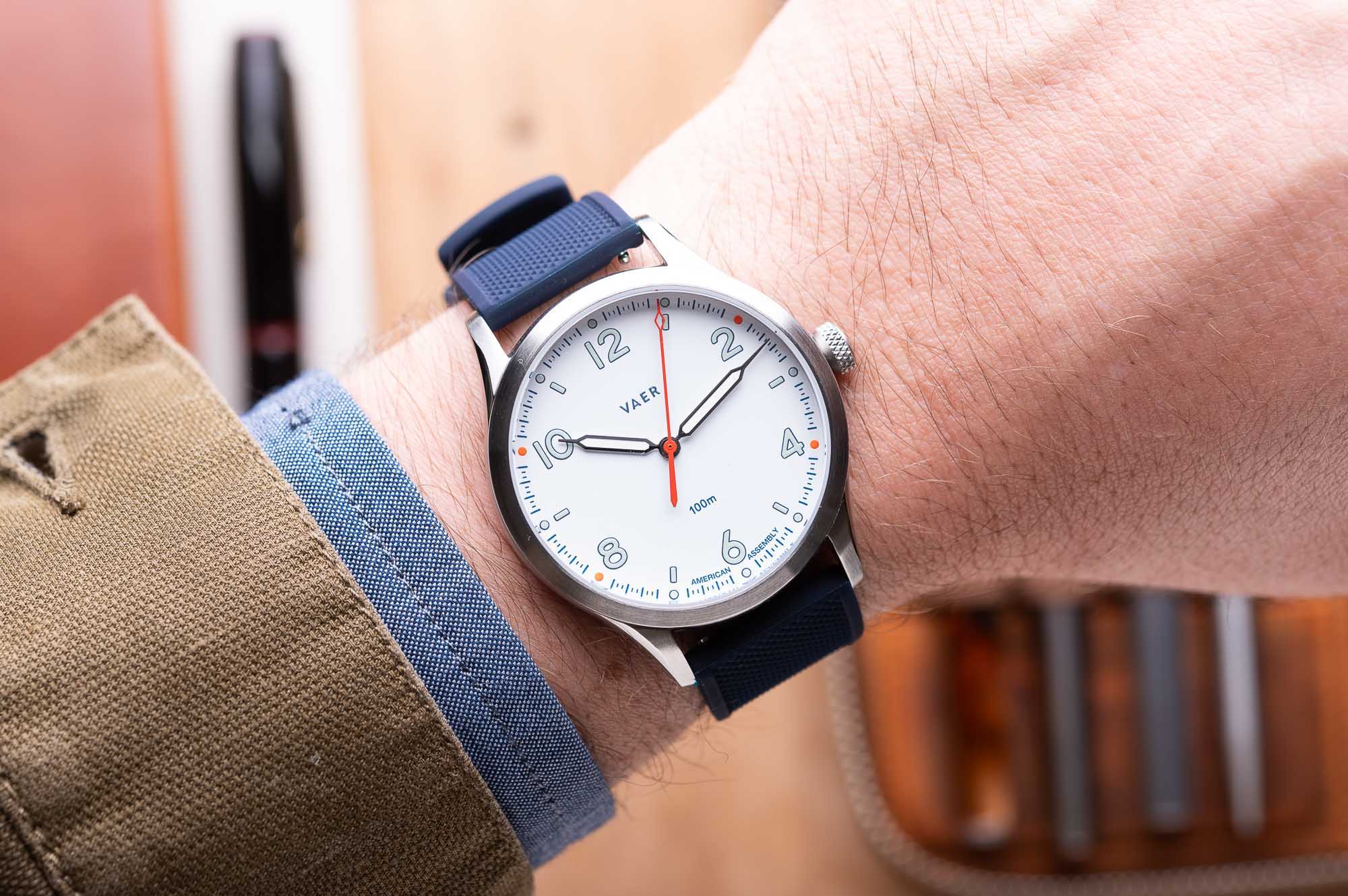 40mm case on a 6.75mm wrist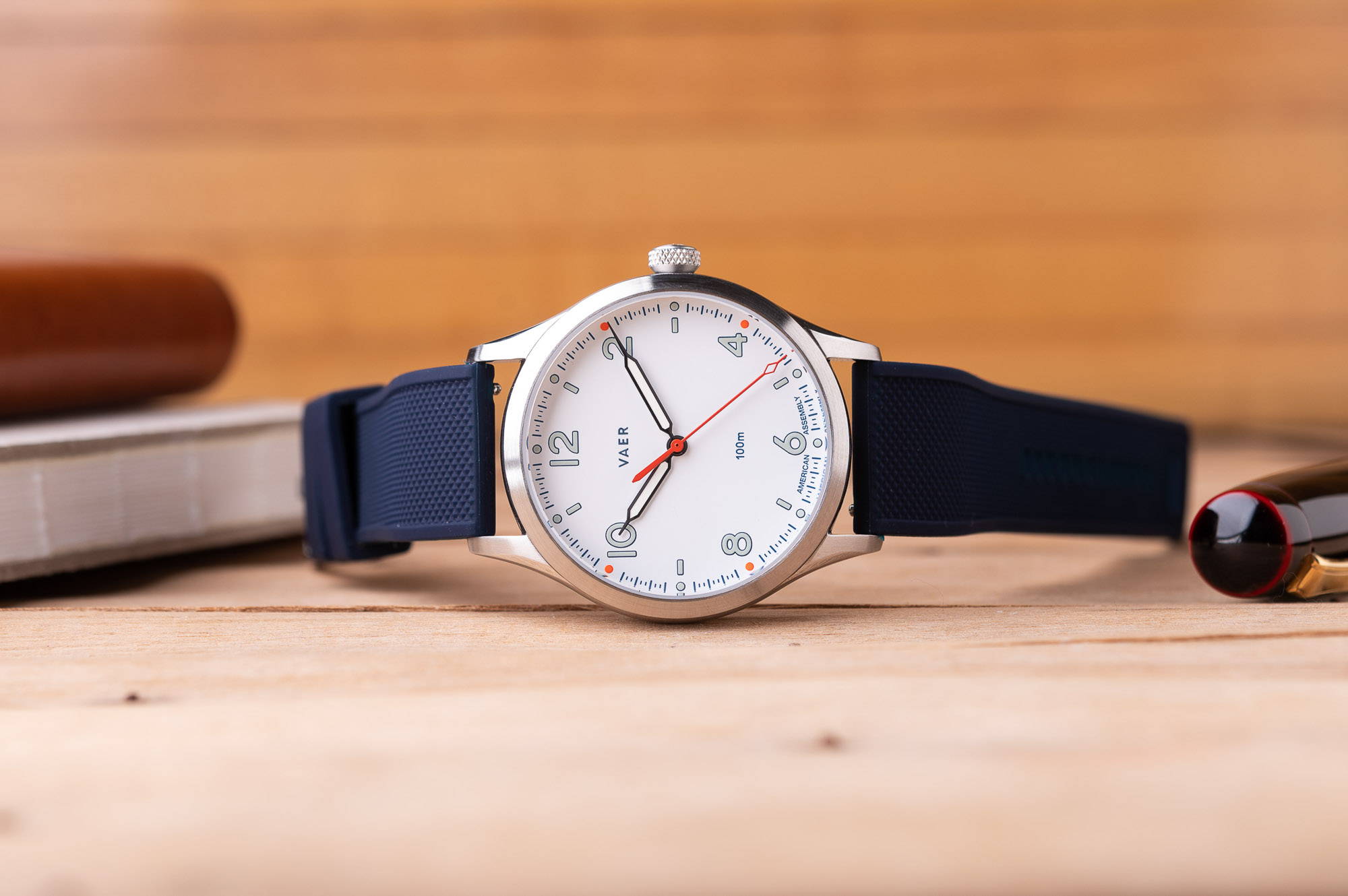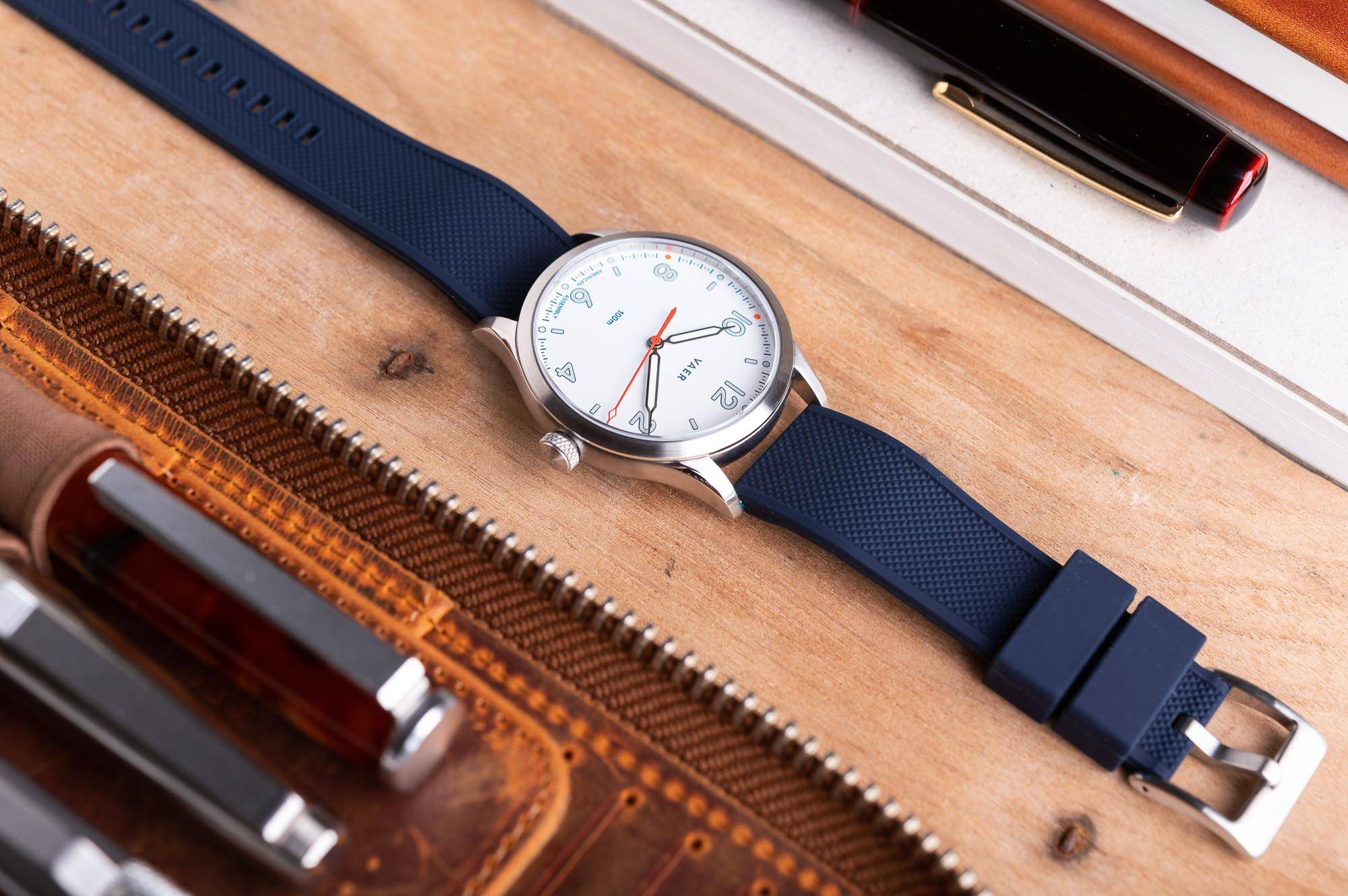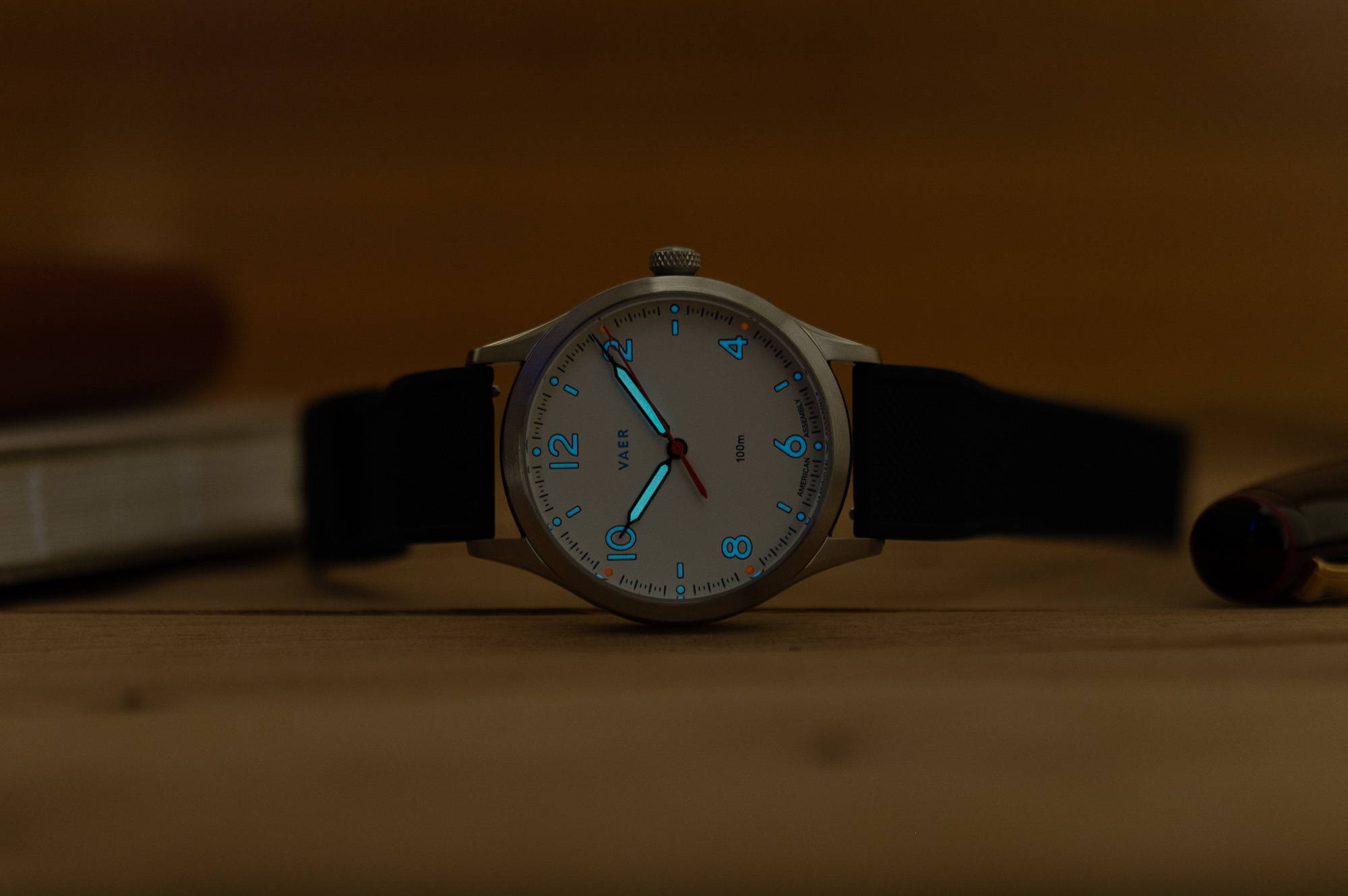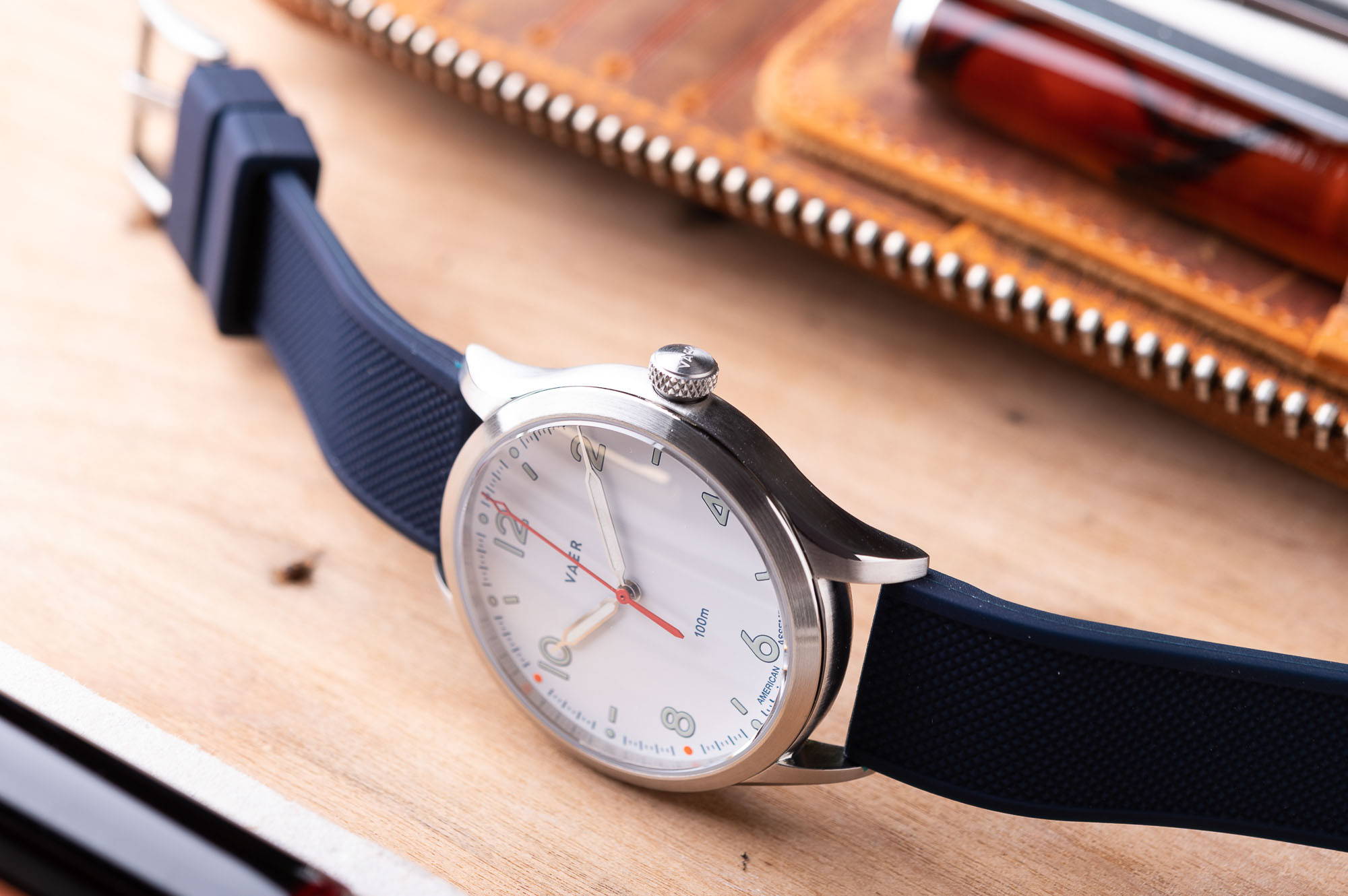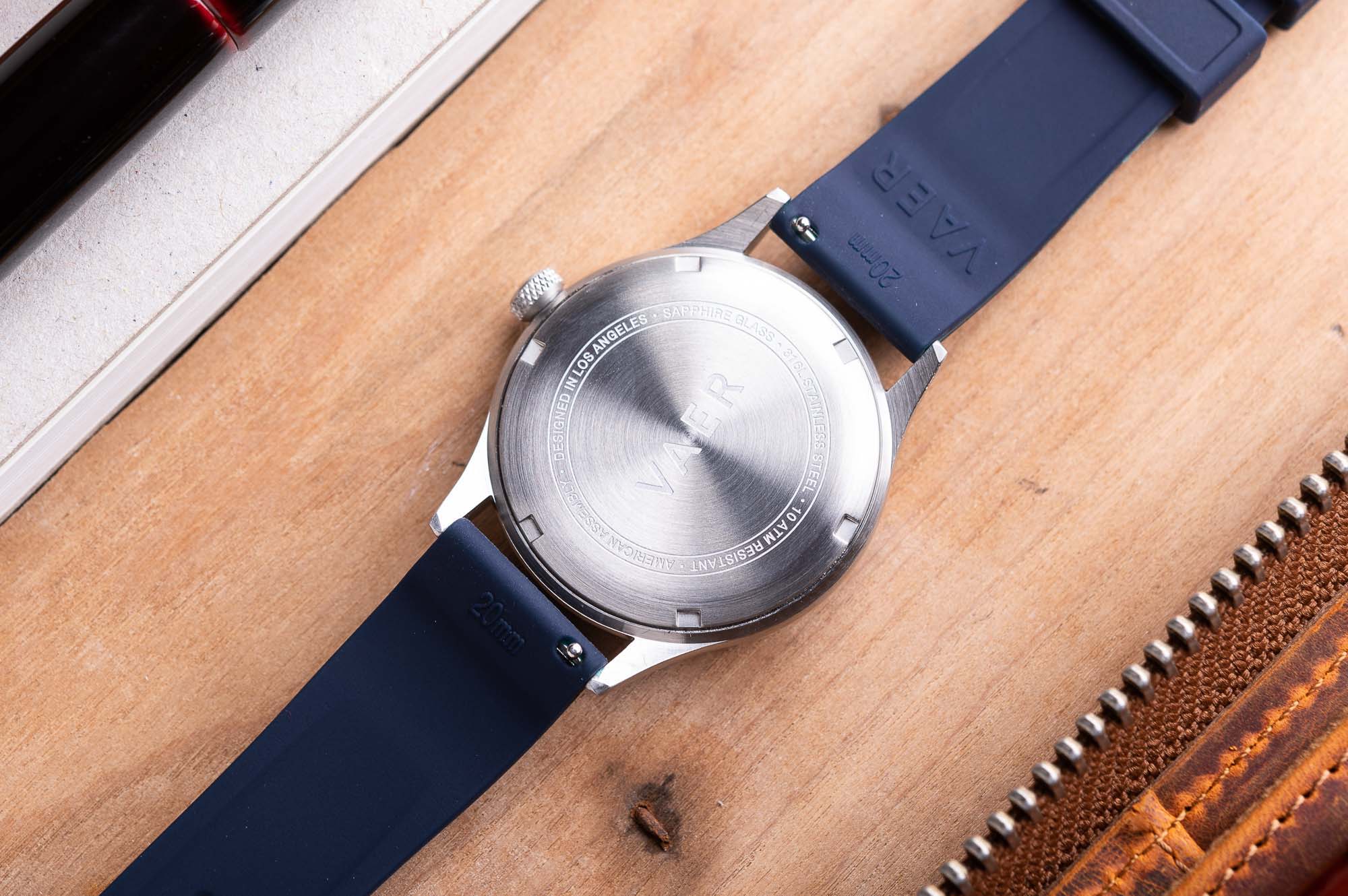 ---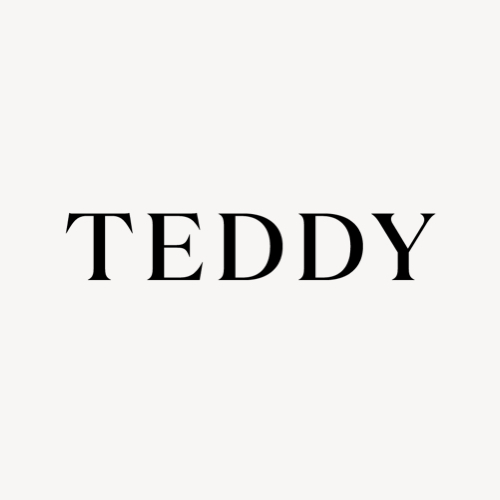 ---
---
---
"If you drew a three-way Venn diagram that compared
style, durability, and price, Vaer's watches would be dead center."
---
---
The Perfect Everyday Wristwatch
If you were leaving on a trip around the world, and could only take one watch - this would be it. Durable and elegant, accurate and affordable, the C5 has everything you need, and nothing you don't. Best of all, it's a great conversation starter - thanks to its unique characteristic of full American assembly.


---
Love the water? The Vaer C5 is perfectly suited for swimming, surfing and diving.
All Vaer watches feature a scratch resistant domed sapphire crystal.

The C5 is assembled and tested in America, and includes a signed certificate from the technician.
---
---
10ATM tested with a locking crown
Vaer has always been an ocean-based brand. Headquartered half a mile from the Pacific coastline, we view water resistance not merely as a hypothetical "nice-to-have," but as a functional everyday necessity. While all Vaer watches are guaranteed waterproof, the C5 is particularly well suited to extended ocean adventures, boating trips, and overland backpacking due to the extreme accuracy of quartz powered watches. While the Vaer mechanical A5 and A7 collections offer elevated technical craftsmanship, the C5 quartz is the best set-it-and-forget option for outdoor use.
Endless Customization with Additional Straps
The C5 collection offers a range of customization, not only offering the widest range of dial designs, but also a full lineup of our 20mm interchangeable straps. All C5 now come standard a comfortable and functional waterproof silicone strap, and your choice of a custom second strap, which will include options such as our USA made Horween Leathers straps, and a range of ocean-ready nylon designs. To add even more functionality to your watch, you can also bundle a 3rd strap of your choice, from our full range of color combinations.
An investment in American craftsmanship
Your daily wristwatch is an incredibly important and personal object, and we think you should have a choice of where it's put together. While we do offer the choice of Swiss and Asian assembly, our core offering is USA assembly by our team of technicians. The C5 line is currently powered by a Swiss made Ronda quartz movement, though we are exploring the option of an American made movement in the future.
---
| | |
| --- | --- |
| | |
| | |
| | |
| | |
| | |
| | Single Domed Sapphire w/ internal AR coating |
| | |
| | |
| | |
| | |
| | |
| | |
| | |
| | |
| | |
| | |
| | Silicone Tactical Strap (Standard), Nylon, Bracelet, Leather (Optional) |
| | 20mm (Compatible with all Vaer straps) |
| | Dive Clasp, 4 Micro Adjustments, Solid end links, 18mm Taper |
| | 24 Months (Waterproof Guarantee) |
| | |
| | |
Add Value with a Custom 3rd Strap
What's the easiest way to add value to a watch? In our opinion, it's switching up the strap style. Personalize your watch beyond our standard 2 strap offering by bundling extra straps for only $20 each.

---
---
---
Vaer is a small self-funded company, and we've spent countless hours designing and building the C5 watch. We hope you love it as much as we do. But if for some reason there's a problem or it's not a fit, you can get in touch with us, and as the founders we'll do everything we can to ensure you have a positive experience with our brand.
---
Due to batch assembly and demand, most watches ship in 7 days.
Full Refund within 30 Days
We think you'll love this watch. If not, we make it easy to exchange.
All Vaer watches are sold with a 24 month guaranteed warranty.
---
---
C3 Design Navy - 36mm USA Q...


$ 219
C3 Tradition Green - 36mm U...


$ 239