Special Pre-Order Access at $399
This is your opportunity to pre-order one of our Dive watches at 20% off. Serialized units are very limited - purchase yours today.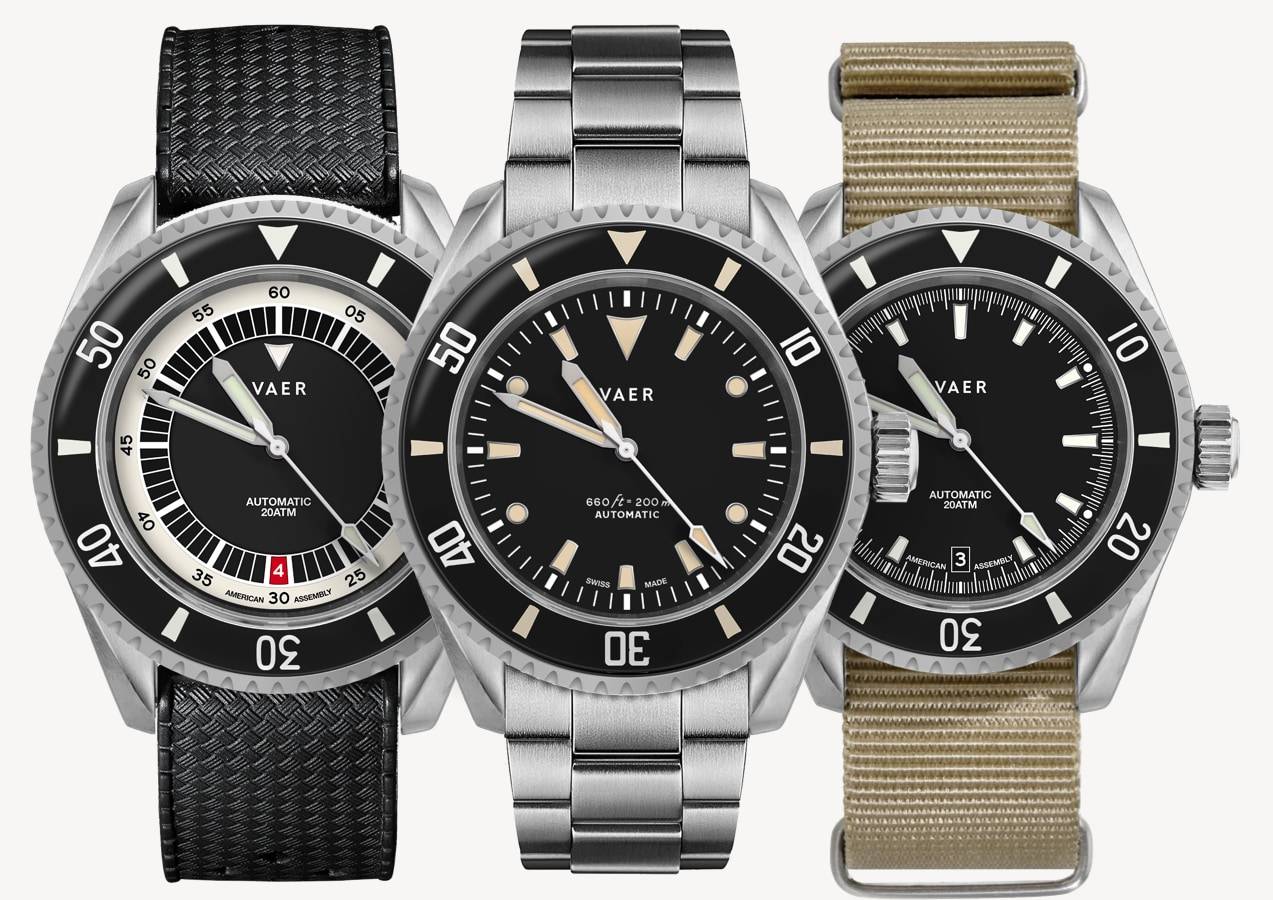 ---
All Vaer watches are ocean-ready. Our diver goes to the limits of real-world depth exposure.  
All Dive watches feature a scratch resistant double domed top crystal, and a sapphire caseback.

Our D5 Diver will be assembled and tested in America, while our D7 model will be Swiss Made.
---
100 Serialized Pieces of Each Model
There will be 100 serialized pieces in each of 8 Dive watch options, and these will be first come first serve.
---

---
Professional Grade
Individually Made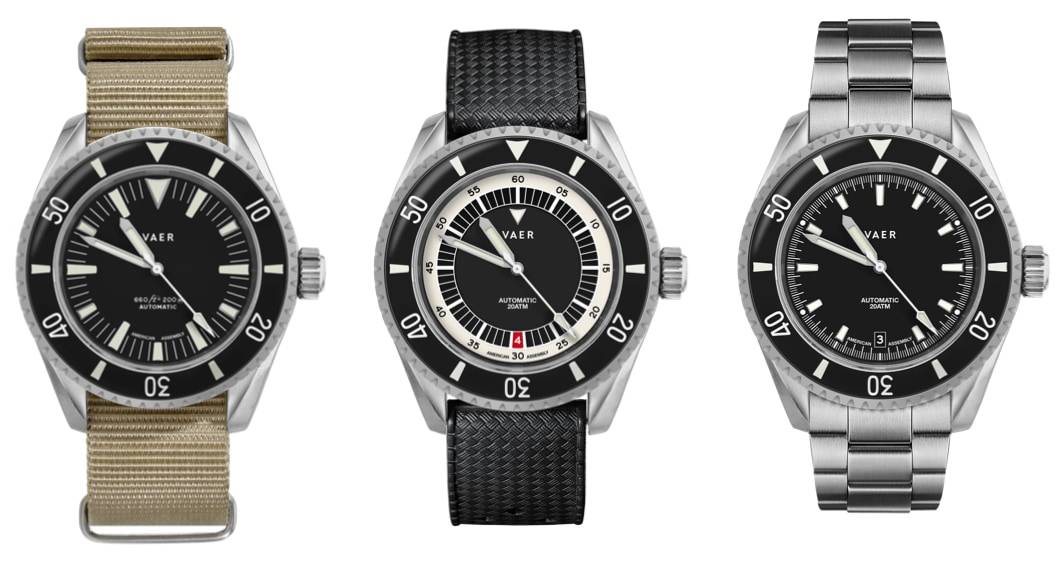 The D7 USA Diver is available in 3 complimentary design combinations, building on the core case with unique details and finishing. The line-up ranges from the refined and contemporary Atlantic, to the historic, military inspired Arctic. While we have a hard time picking a favorite, if you need help choosing a design, we're always here to provide our advice.  

---
---
20 ATM (200 meter) depth tested with a locking screwdown crown
Vaer has always been an ocean-based brand. Headquartered half a mile from the Pacific coastline, we view water resistance not merely as a hypothetical "nice-to-have," but as a functional everyday necessity. While the locking 10ATM rating of our current watch line-up covers 95% of in-water use cases, it was important that the Diver went a step above. At 20ATM we believe this watch will cover all real-world depth exposures, while maintaining highly requested aesthetic features such as slim profile and a sapphire exhibition caseback.
Compatible with all Vaer watches & straps
We've always sold our watches with two straps, and we'll continue this tradition with the Vaer Dive lineup. All watches will come standard a retro-inspired waterproof tropic strap, and your choice of a custom second strap, which will include options such as our first metal bracelet, USA made Horween Leathers straps, and a range of ocean-ready nylon designs.  
Take your pick between USA or Swiss assembly and testing
Your daily wristwatch is an incredibly important and personal object, and we think you should have a choice of where it's put together. Our core offering, the Vaer D5 Diver will be a premium USA assembled automatic diver powered by a Japanese made Miyota 9015. Our luxury offering will be the Swiss Made D7, powered by a fully decorated ETA 2824 movement.
---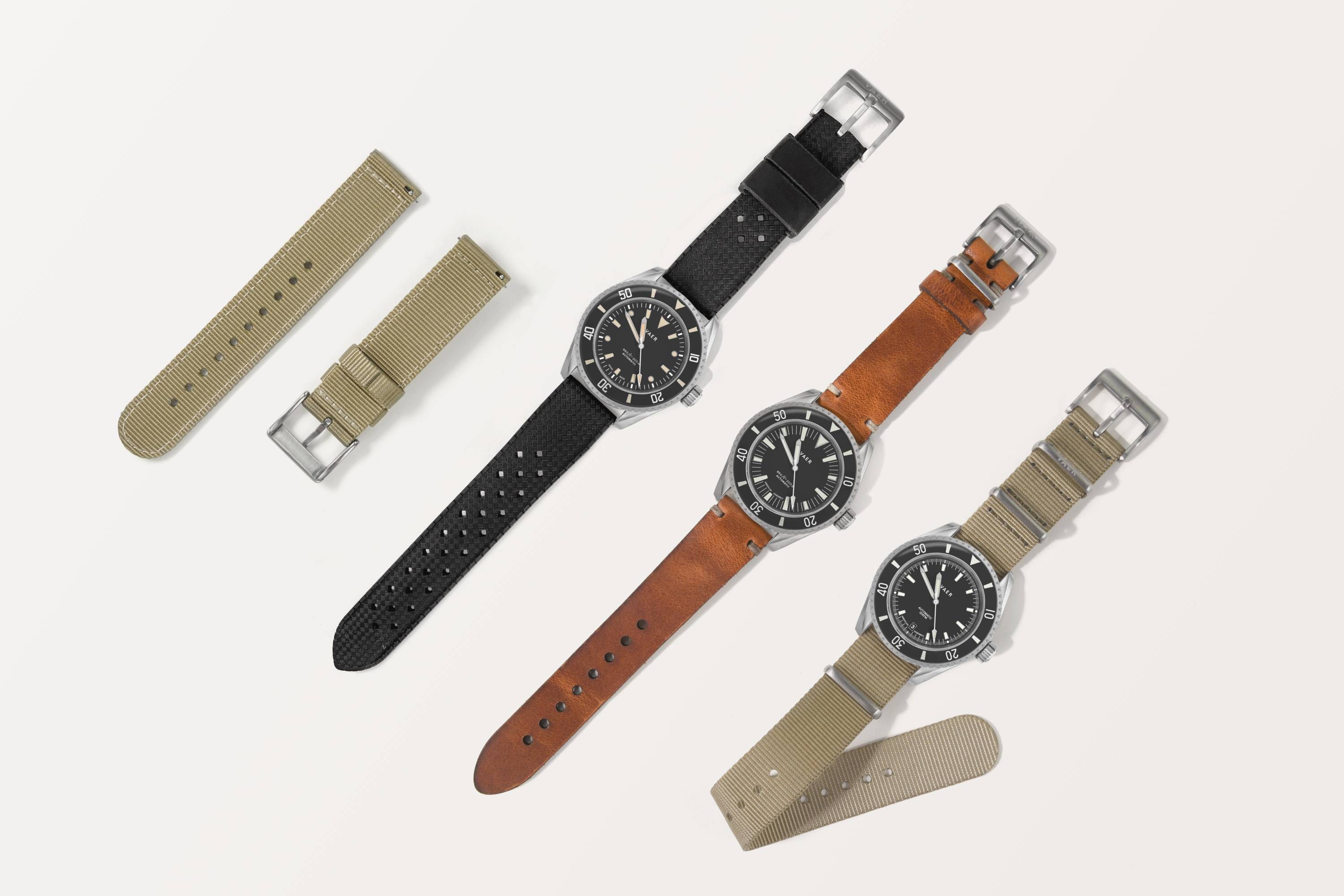 ---
Thank you for your support

Thank you for helping us make this project a reality! This is the launch of our first ever internal crowdfunding campaign, you can expect plenty of updates, press reviews, and detailed unboxing content in the weeks following your pre-order purchase.
- Ryan Torres & Reagan Cook