Customer Reviews
Write a Review
Ask a Question
01/13/2023
Briana M.
United States
Luxurious, supple, durable
I bought my first Vaer with he R1 38 cream in presale, and am female :). I got it with the black rubber strap as the metal bracelet is Very masculine, the rubber one looks and works great! Comfortable! My wrist is 6.2in for ref. Now- the brown Horween leather strap. First-all the straps quick release is genius and now every time I touch a watch without it I become Annoyed lol. The strap is Fantastic. It's SO soft I can't stop petting it lol. The color is beautiful- and depending on how styled, can be tough, Or, it pairs very well elegant. The brown is a luxurious color and look feel. As with any good leather it's slightly stiff and then gets so soft so fast and fits organically to the wrist. The brown really complements the cream And the black and red of the R1. Nicest piece of leather on a strap I e seen. And it feels treated with some water resistance?
11/16/2022
Anonymous
United States
100% quality
I love wearing my new Vaer watch and have had many compliments on it. The leather strap is exquisite and luxurious and really completes my attire while out on the town. I'm now trying to decide on another Vaer watch and having just as hard of a time trying to decide which one to get as I did on my first!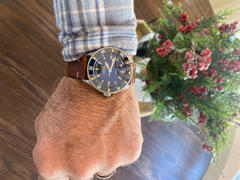 10/15/2022
Curtis H.
United States
Horween Strap
Great brand & service, best value on the market!
09/06/2022
William N.
United States
Classy, well made leather watch strap
This Horween tan leather watch strap is a beautiful fit with the stainless steel case. The quality is there and the thick leather should last a good long while.
11/30/2021
Andrew F.
United States
The best leather strap I've ever worn.
I don't own a Vaer watch, though my eye is on the new GMT, but the lined Horween straps have attracted my attention for some time and I finally ordered one. This is, simply put, the nicest leather strap I've ever worn. The leather is soft and supple, yet also thick and strong. The lining is gorgeous and both front and back are just lovely to the touch. I did swap out the buckle to a black one to match the black DLC watch I'm wearing this strap on (a retro British military monopusher chronograph), and this strap absolutely looks the part. Top notch, and strong motivation to get the black version on that new Meridian GMT.