Customer Reviews
Write a Review
Ask a Question
04/09/2022
Jeremy W.
United States
A great American Strap
I have 3 Vaer watches now and they are my favorite watches in my collection these days. I also just love the straps Vaer offers. The Lined Horween Leather straps are unbelievably comfortable, tough, and look great with a variety of options. I also have the Unlined Horween leather strap, Black and Tan Lined Horween leather, Black Silicon, Black Tropic, and both Blue and Khaki quick release straps. I love them all! I even find myself putting my Vaer straps on some of my other 20mm compatible watches. I just love these straps for their high quality and the versatility the provide. Vaer is quickly becoming my favorite strap store as well!
06/07/2022
Matthew W.
United States
5 star customer service, 0 stars for quality
Love my watch. Was saving it for a trip to Utah from NJ, Out the leather band on and wore watch during today fo twenty days, and noticed that the band was already ripping at the pin rod where it attaches to the watch, making it no longer useable. 5 Stars because Vaer immediately sent replacement - but - 0 stars for a band that only lasted less than a month - and cost 109.00.And I did nit get it wet (in the desert). So, average rating is 2.5 stars, but I round up for the nice quality of the watch.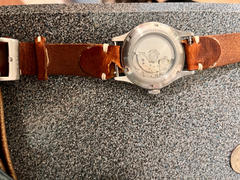 04/21/2022
Gerald L.
United States
Horreen Strap. No break-in time.
Worth every penny, very leathery so to speak. Looks good with all my vaer watches. Wish I could wear it in the water when diving! Other than that, Perfect.
04/20/2022
Dennis D.
United States
04/12/2022
Gerald L.
United States
Leather Strap Heaven!
Looks and feels great on the wrist. Nicely made and affordable. No break in time.