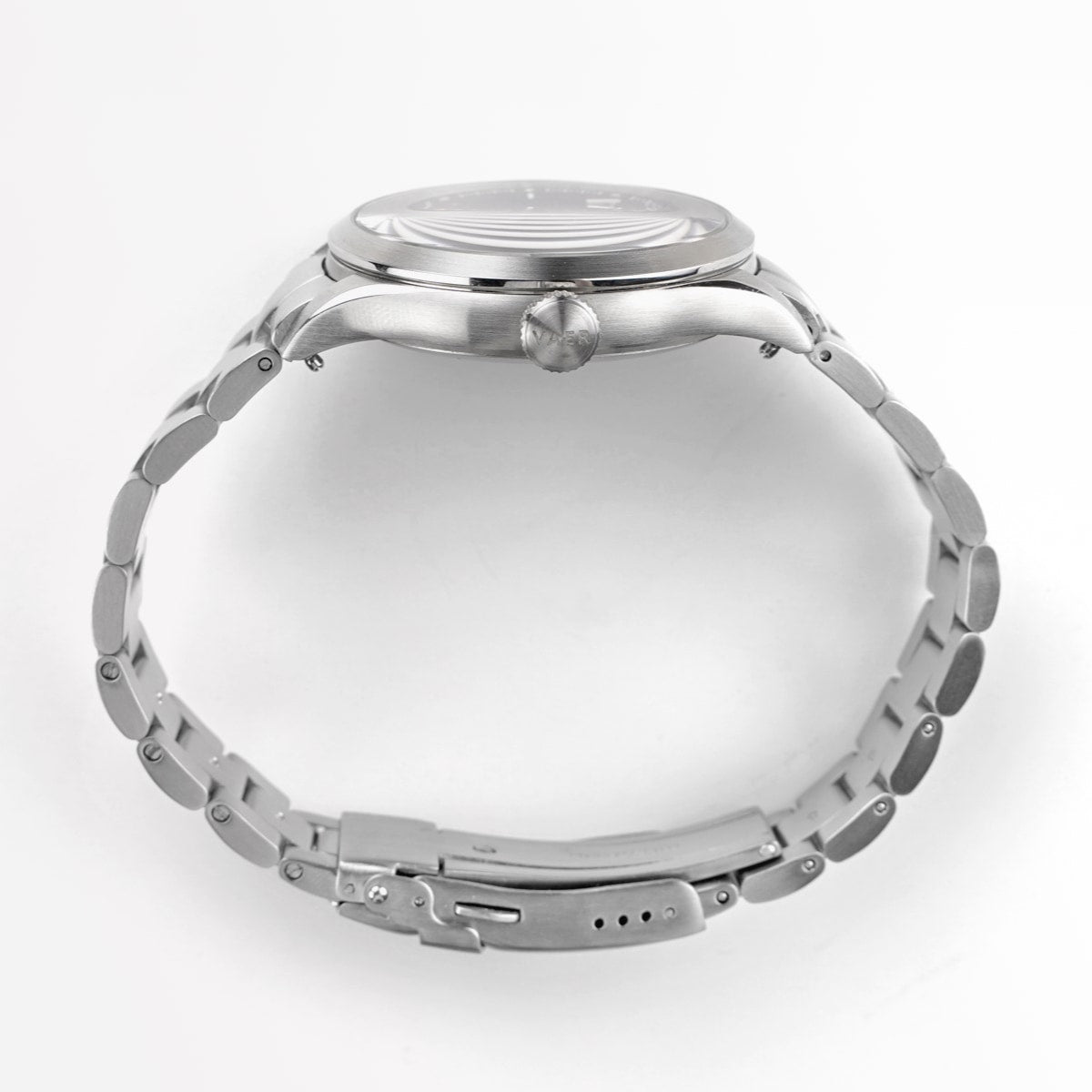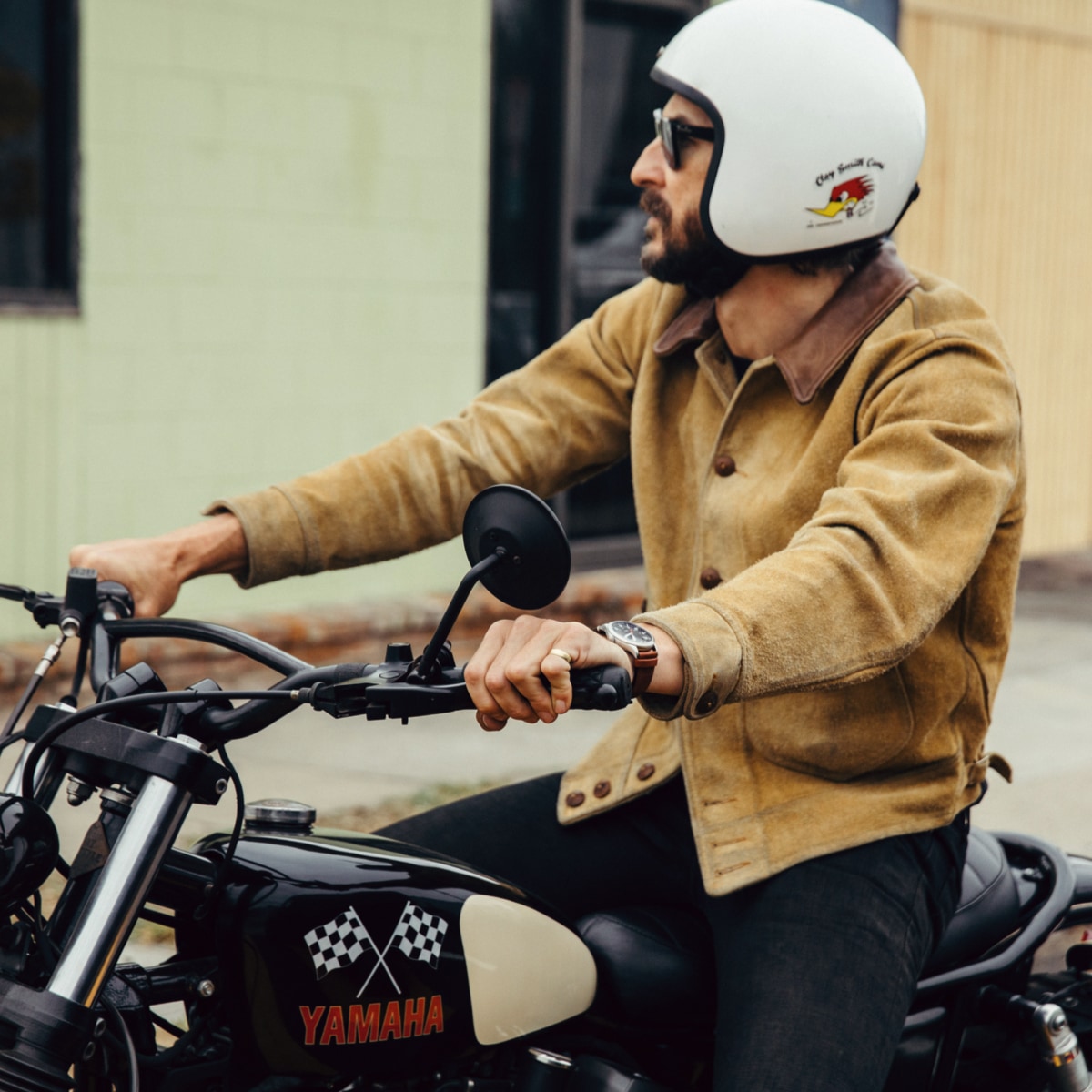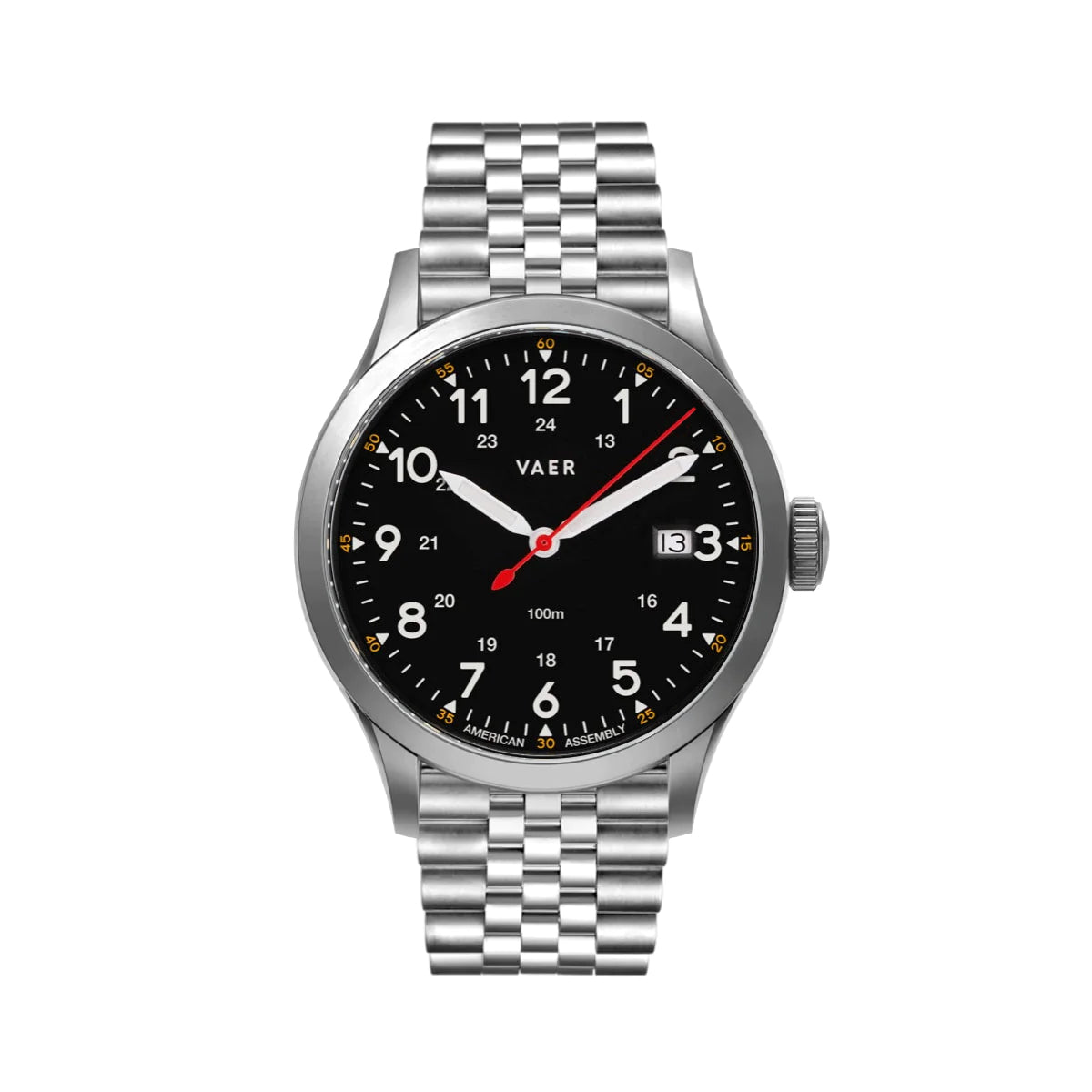 C5 Field Black Solar - 40mm USA

With optional to 2-day shipping available.
Guaranteed 100% ocean-ready.
Our 20mm straps are interchangeable
SUMMARY: This is the solar-powered version of our top-selling C5 Field Black. Solar provides the best of both worlds - perpetual timekeeping with incredible accuracy. Six hours of sunlight will provide six months of power reserve, and the watch can run off any light source (even candlelight). The C5 Field Black is a military-inspired 10ATM watch, that stands out in the Vaer line-up thanks to its classic field watch design and the distinction as being longest selling product (first launched in 2018). As a C5 model, this watch is part of our all-time bestselling collection, distinguished by its ocean-ready functionality, low-profile case design, strong lume, ultra-accurate solar quartz movement, and full USA assembly.

WHO IS THIS WATCH FOR? We recommend the C5 for those seeking a dependable tool watch that can also be dressed up for more formal occasions. The perpetual timekeeping function of a solar-powered quartz watch makes it the perfect fit for an everyday wearer, and the 40mm case sizing is large enough to command presence on most men's wrists while still maintaining our commitment to ergonomic, and timeless proportions.

INSPIRATION In designing the C5 Field Black our goal was to deliver the perfect modern field watch, something that was modern, legible, and with a sensible splash of color. This watch was our first-ever field watch - and its continual re-stocks, provide evidence of a winning formula. In many ways, the C5 Field forms the foundation of our tool watch collection and is a great option for someone starting a new collection, or looking to simplify the information on their wrist. The C5 Field Solar is further distinguished as one of the first Vaer field watches powered by ambient light - a premium feature that optimizes its use in remote settings and helps deliver on the promise of near-perpetual timekeeping.
CASE SPECIFICATIONS
- 10ATM (100m) water-resistance rating
- Locking screwdown crown
- 316L stainless steel
- Single domed sapphire w/ AR coating
- 20mm lug width
- Matte black PVD coating
- 40mm case diameter
- 48mm lug-to-lug Distance
- 10.4mm Thickness

MOVEMENT & ASSEMBLY
- Solar powered
- Japan Made Epson VS-42 movement
- 6-month reserve (from 6 hours of light)
- -10/+20 sec/month timing tolerance
- Assembled in the United States

DIAL & HANDS
- Vaer Lume Performance Rating = 8/10
- This model has very strong glowing lume paint
- The dial features 20x layers X1 W207 SuperLuminova
- The hour, minute, and second hand also has X1 W207 lume.
- This watch has a date window and 24-hour markers
- Black matte dial (white numerals)

ADDITIONAL DETAILS
- 2-year guaranteed waterproof warranty
- Interchangeable straps (20mm)
- Straps compatible with all Vaer watches
- Steel Bracelet is custom fit
This watch is sized at 40mm in diameter, and measures 48mm from lug to lug, giving it a medium-sized presence on the wrist, and complementing most men's wrists. The 40mm case is our most popular size, and we recommend it for anyone with wrists in the 6.5 inch to 8.5-inch range, or especially if you're someone who likes a bit more presence on their wrist (compared to our ultra-compact 36mm watches).

Built for extended outdoor use, this watch has been designed to be slim, lightweight, and as comfortable as possible, while still maintaining 10ATM water resistance. The watch case measures 10.4mm in height and has a case weight of 64 grams. The entire case is also rounded and ergonomic so it can be worn comfortably during activities like surfing or mountain biking.

This watch comes in a range of interchangeable strap options, and they are designed to fit wrists ranging from 6.4" to 8.5" in diameter - though we do have specialty straps available for those with wrists outside of this range.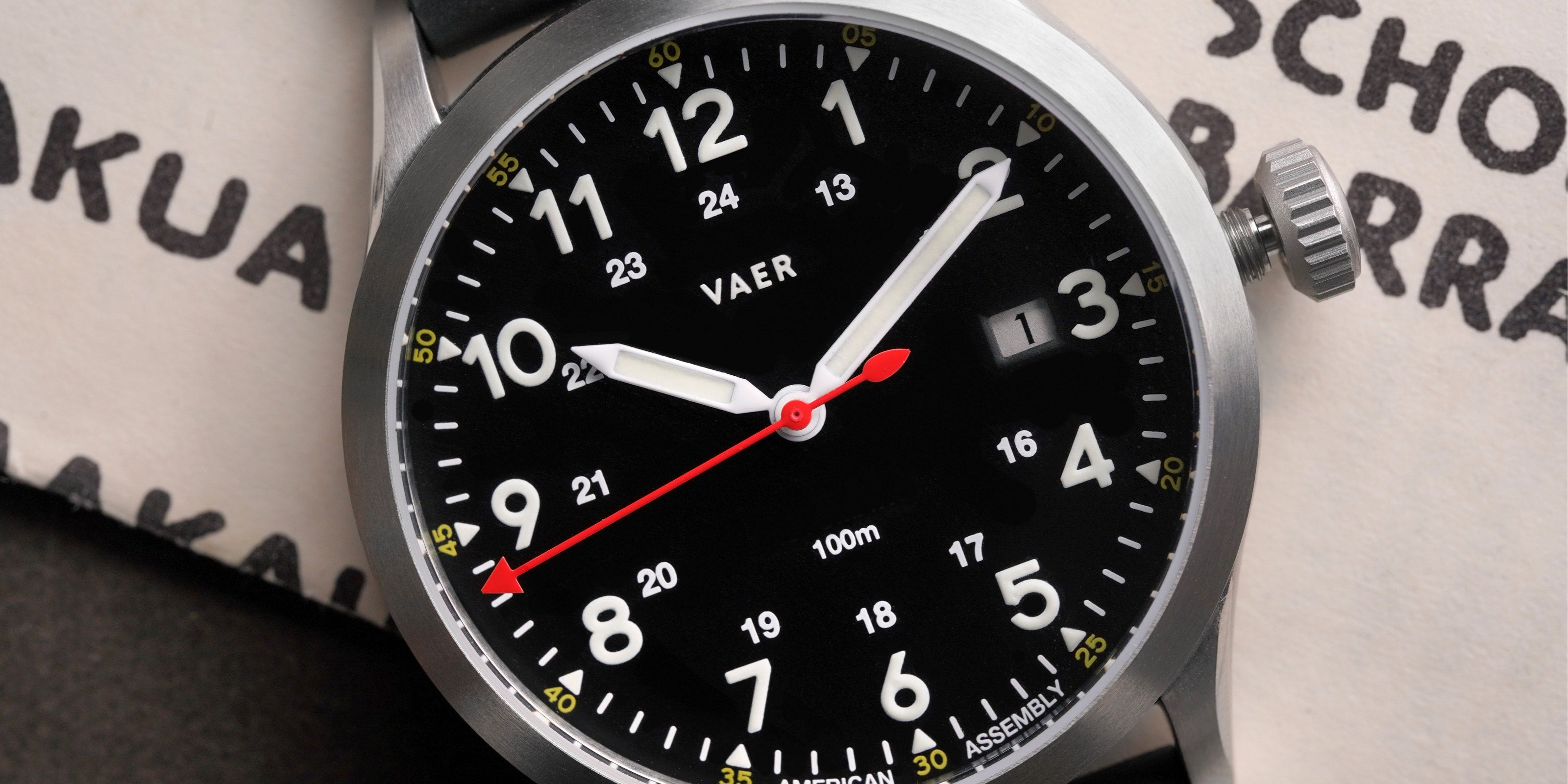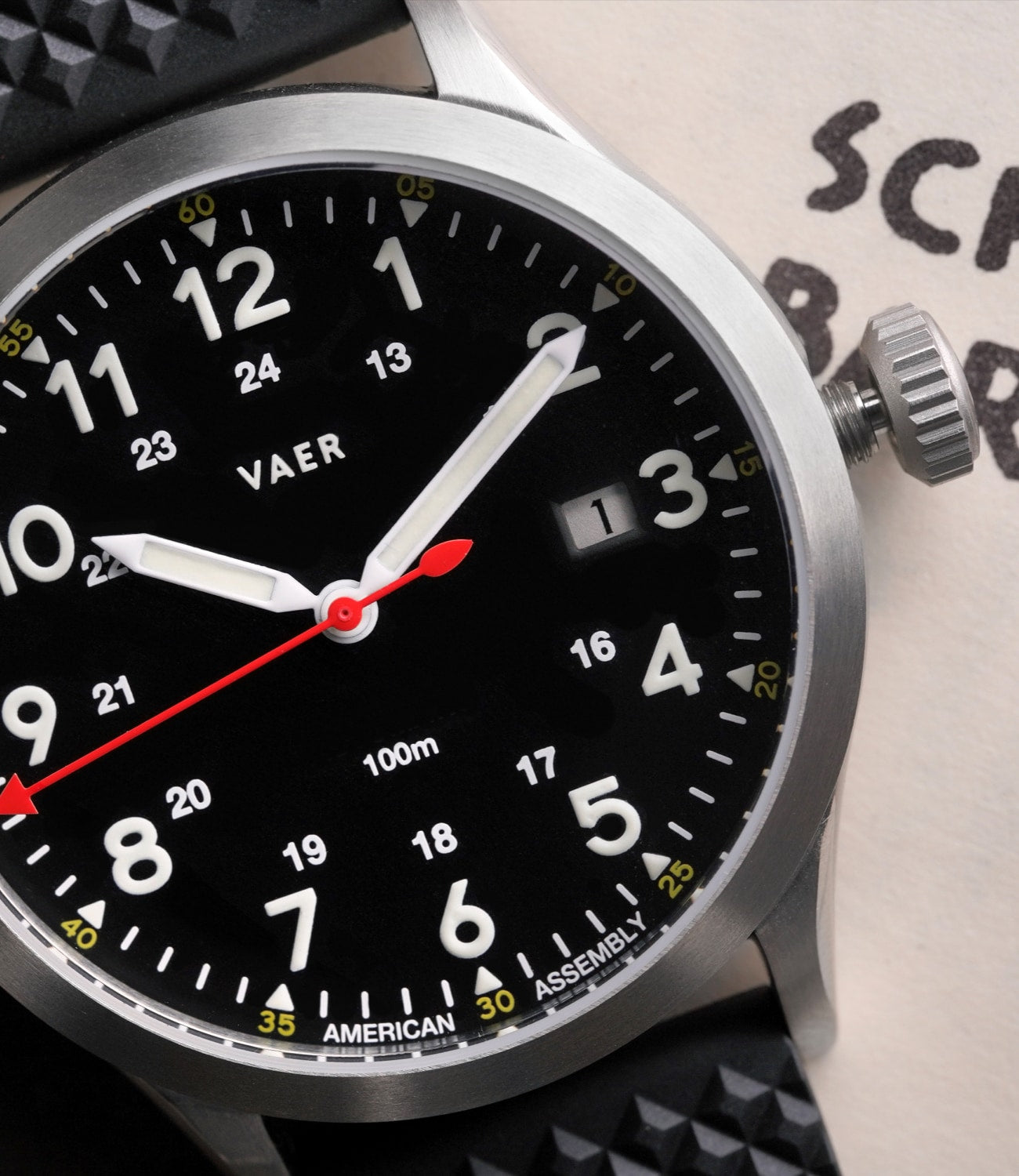 330
Feet of Water Resistance
This watch is perfect for swimming and surfing, and it's protected by our waterproof warranty.
5,300+
Five Star Reviews
Our success has been built on delivering exceptional value to our owners.
The Perfect Everyday Watch
Leaving on a trip with only one watch? This would be it. Durable and elegant, accurate and affordable, the C5 has everything you need, and nothing you don't. Best of all, it's a great conversation starter - thanks to its unique characteristic of full US assembly and a solar powered movement.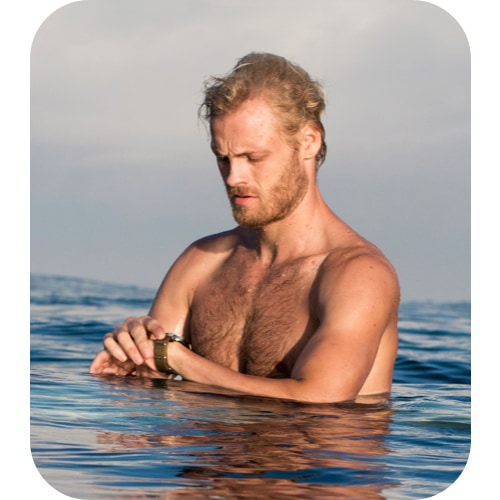 1. Ocean-Ready
Life is unpredictable. The perfect everyday watch needs to provide peace of mind in all conditions. Whether you're heading out in the rain or taking a jump in the pool, this watch never needs to be left on the sidelines.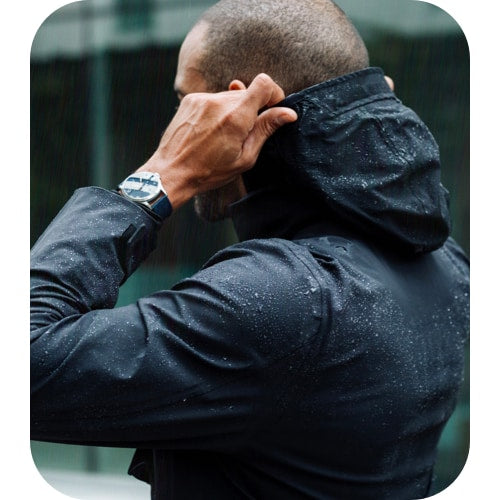 2. Scratch Resistant
Impact is inevitable. When it happens, you want to be sure your watch won't scratch. That's why we use premium sapphire crystal to protect our dials (the second hardest material after diamond).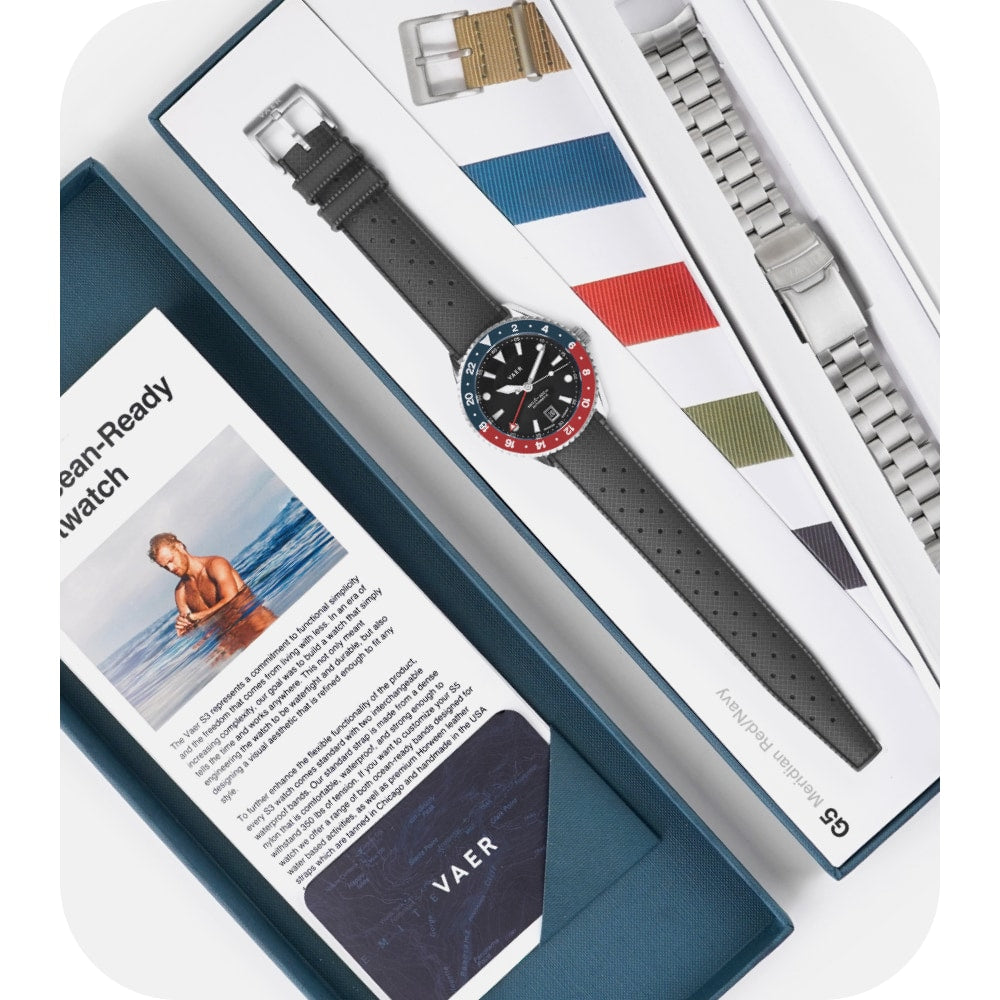 3. Easy Customization
Every day is different. And the easiest way to switch up the look (and functionality) of your watch is to change straps. That's why every Vaer watch ships with 2x quick-change strap options.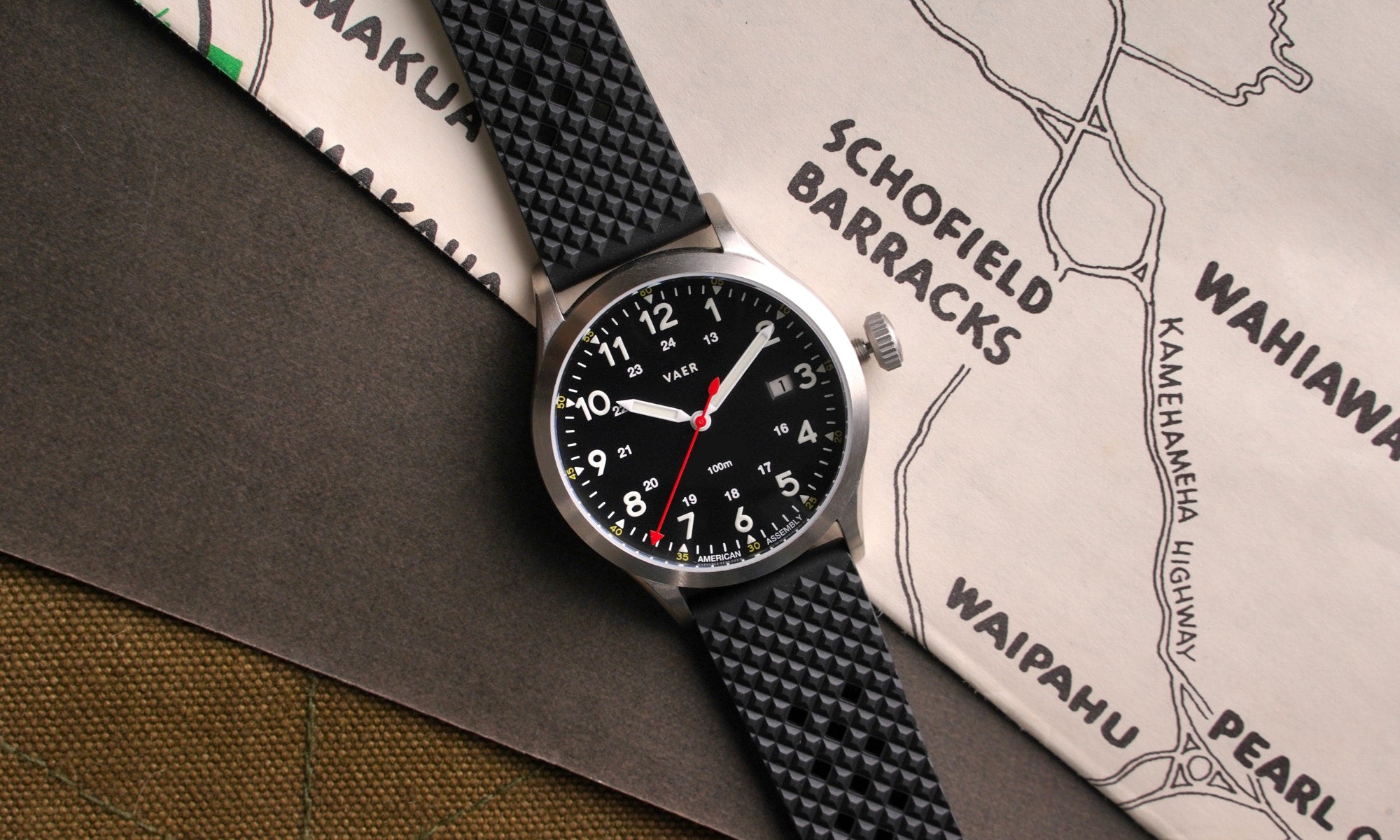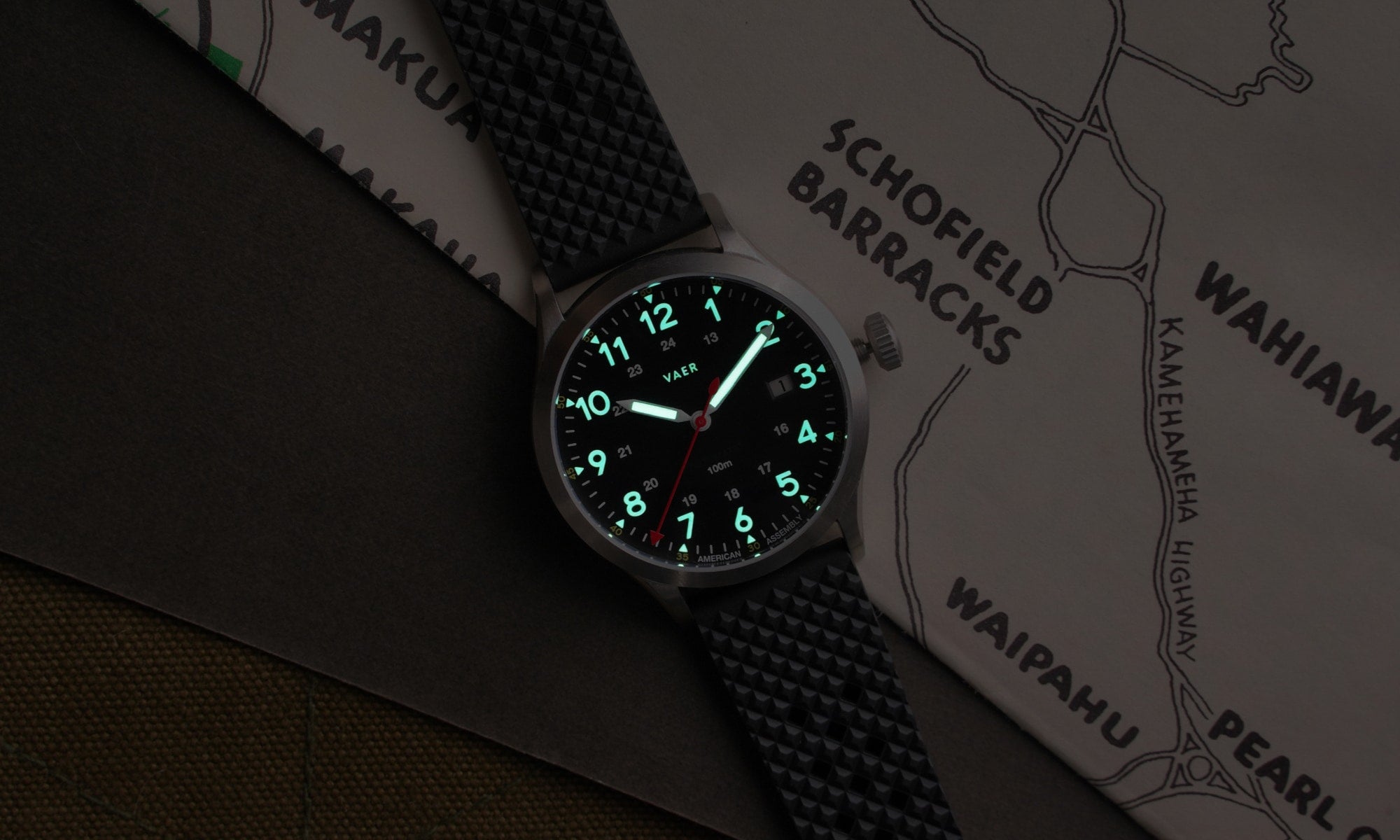 Watches for Every Budget
Compare with similar watches
Many of our watches look similar, though have very different prices. This is due to movement type (the watch's power source), and assembly origin. Below you can find a chart comparing how different models stack up.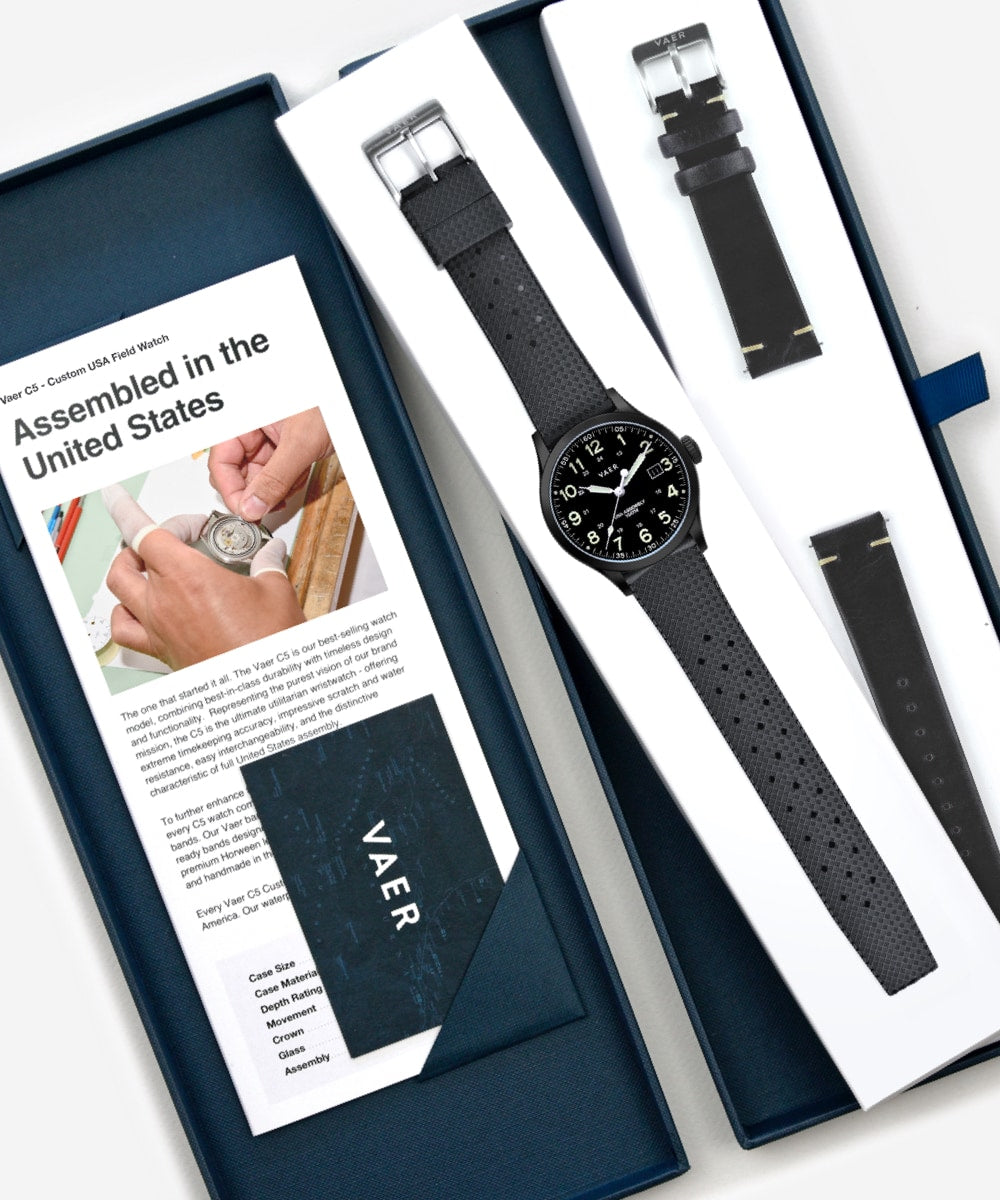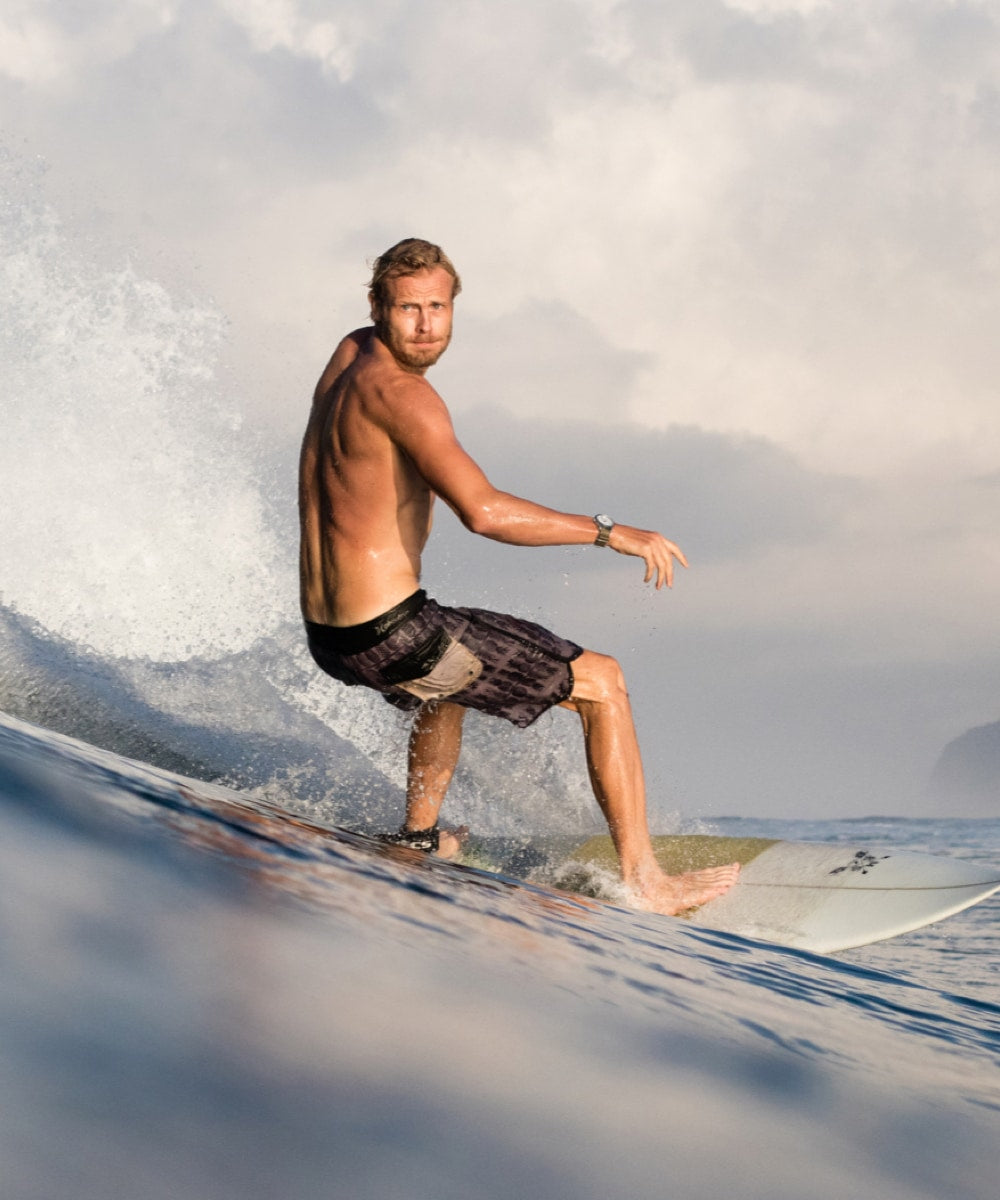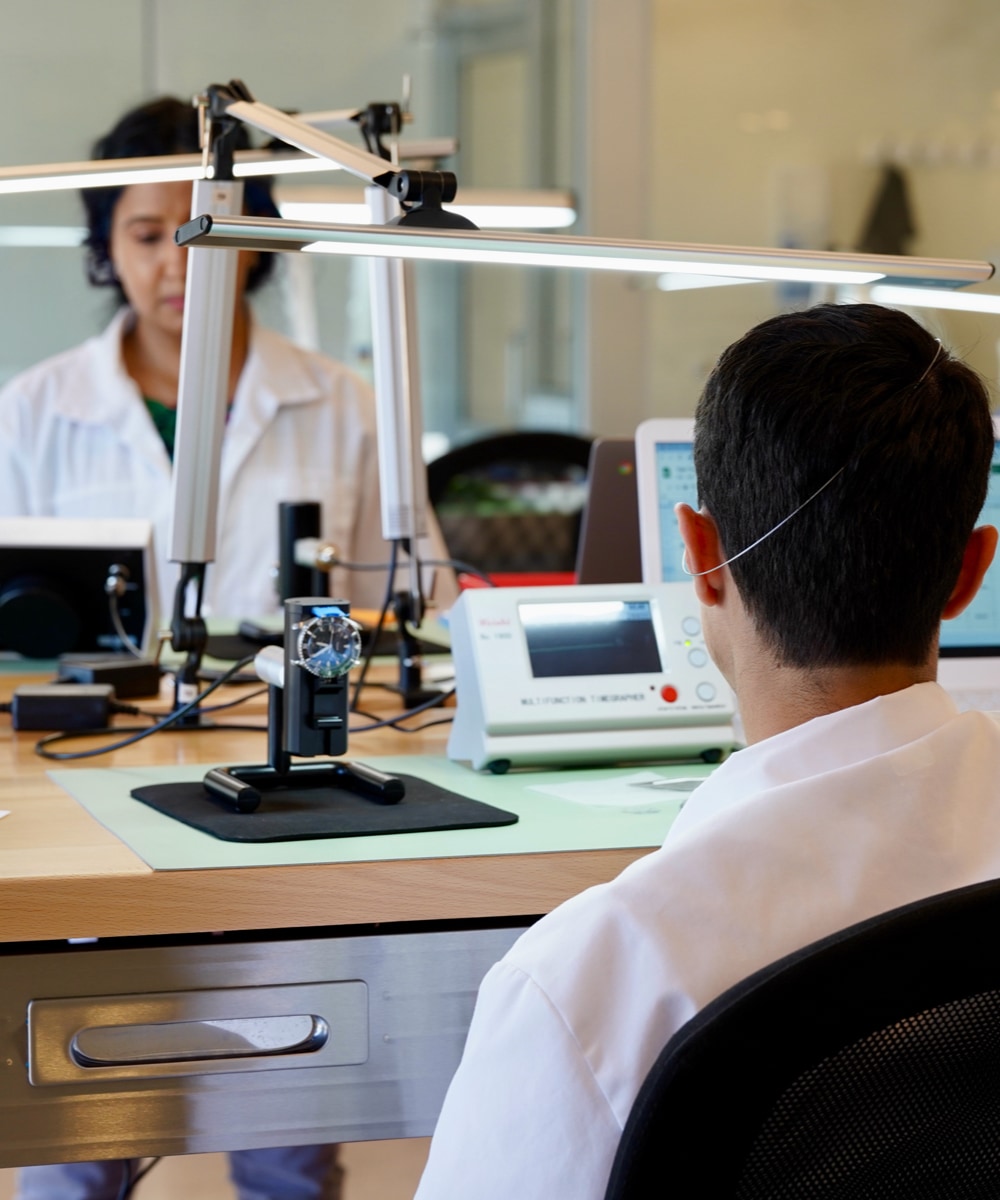 Pride in USA Craftsmanship
We've always invested in USA sourcing, and today, we're proud to be the largest independent watch assembler in the United States. We're committed to American production not only because it improves product quality, but also because it adds a strong sense of identity to our brand.
Confidence to Disconnect
Our mission at Vaer is to make products that will last and become more important and personally significant over time. While luxury and technology have a place in modern life, the products we love the most are durable everyday items that promote values of simplicity and independence.
Freedom in Customization
Every watch we've ever sold has come standard with two interchangeable 20mm Vaer straps. This cross-compatibility across our entire product line, gives owners increased functionality and value, with the option to easily change up their strap.