Discover our USA Assembled Quartz for only $199
The Perfect Go-Anywhere
Wristwatch

With a guaranteed waterproof warranty, domed sapphire crystal, locking crown, C1-grade SuperLume, and looks to put most $1k watches to shame, this is the all-in-one everyday-wearer you've been waiting for.
---
All Vaer watches are ocean-ready. Swim, fish, surf, dive, explore - our watches are built for life in the water.
All watches feature a scratch-resistant domed sapphire crystal - a material second only to diamond on the Mohs scale.

In addition to full assembly and testing in America, many of our C3/C5 watches also feature USA-built quartz movements.
---
The Luxury of Never
Worrying About Your Watch
We believe the best products are those that you can count on for years of everyday wear - from office, to ocean, to overseas travel. While luxury items have their time and place, we've built our USA quartz collection for those who want a beautiful, well-built watch that they never have to worry about.
---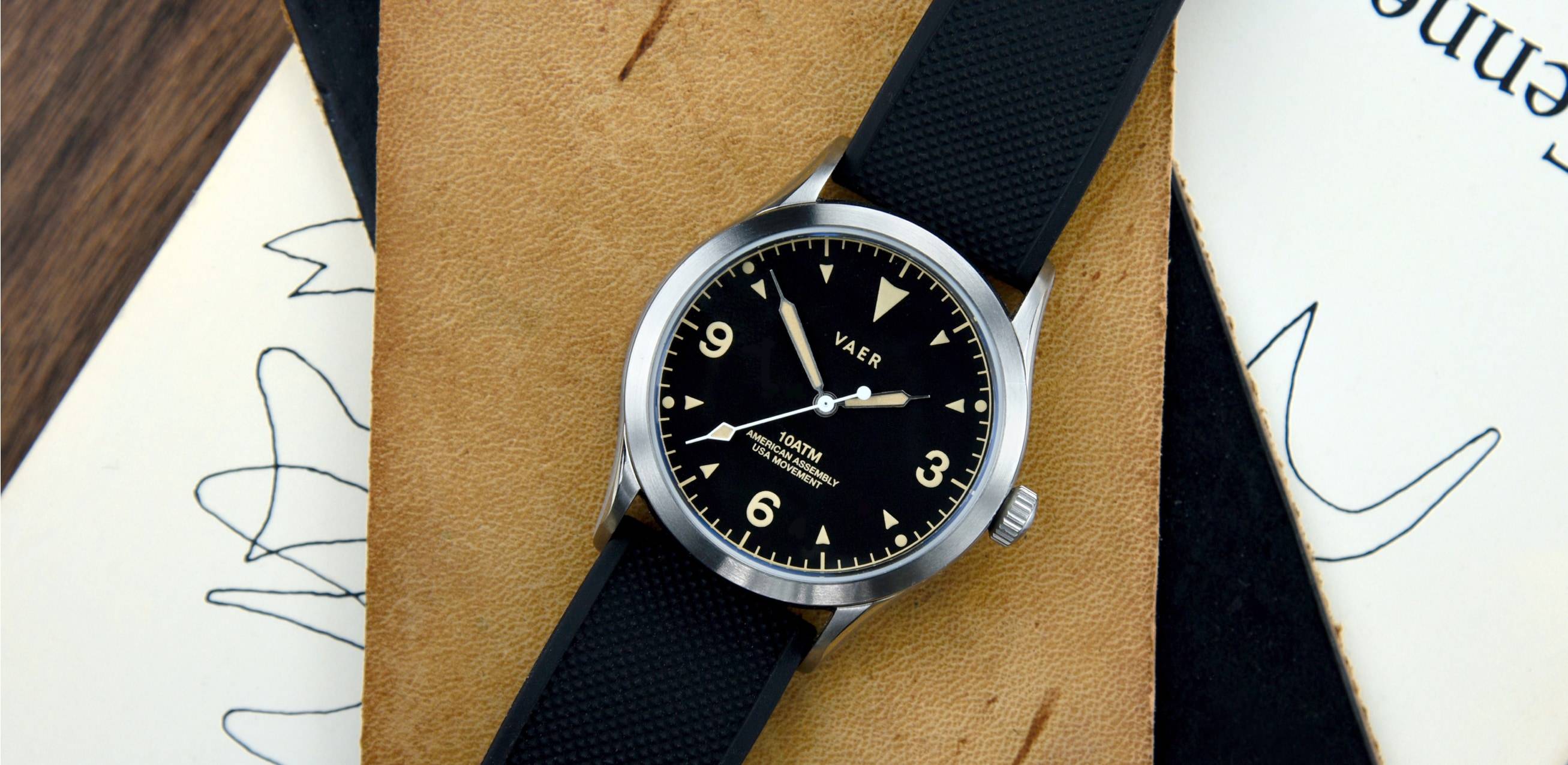 ---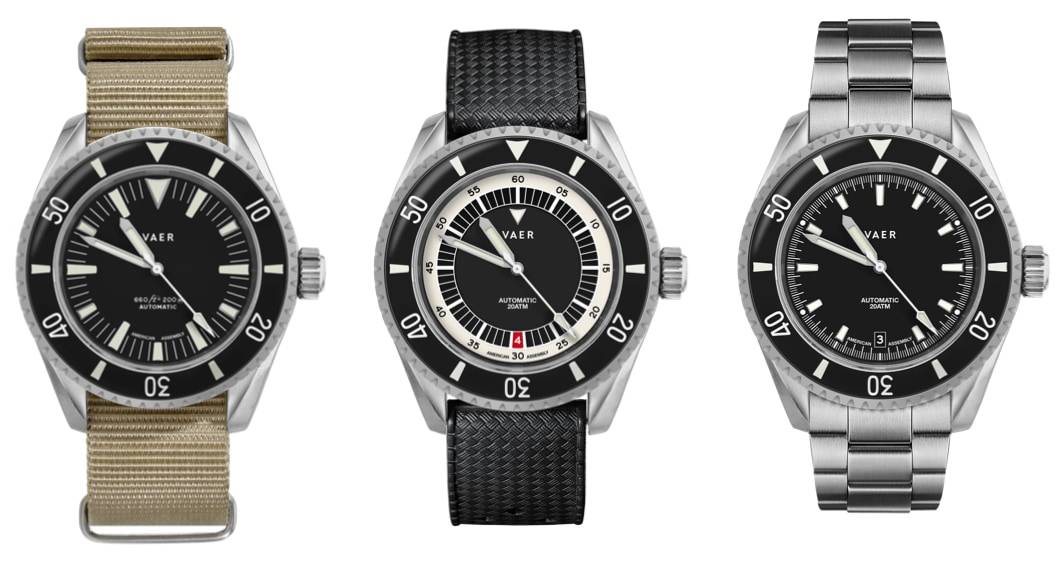 A New Vision for
American Watchmaking

When we founded Vaer in 2015, independent American watchmaking was mostly a thing of the past. The most iconic US-brands had either gone out of business, or been off-shored and incorporated into large international conglomerates. Over the past five years we've worked to reverse this trend - and prove that it's still possible to assemble affordable, beautiful and long-lasting wristwatches in the United States.

---
---
10 ATM (200 meter) depth tested with a locking screwdown crown
Vaer has always been an ocean-based brand. Headquartered half a mile from the Pacific coastline, we view water resistance not merely as a hypothetical "nice-to-have," but as a functional everyday necessity. While the locking 10ATM rating of our current watch line-up covers 95% of in-water use cases, it was important that the Diver went a step above. At 20ATM we believe this watch will cover all real-world depth exposures, while maintaining highly requested aesthetic features such as slim profile and a sapphire exhibition caseback.
Compatible with all Vaer watches & straps
The C-series collection offers a range of customization, not only offering the widest range of dial designs, but also a full lineup of our 20mm interchangeable straps. All watches come standard a comfortable and functional waterproof silicone strap, and your choice of a custom second strap, which will include options such as our USA-made Horween Leather straps, and a range of ocean-ready nylon designs. To add even more functionality to your watch, you can also bundle a 3rd strap of your choice, from our full range of color combinations.
An continued investmnet in American craftsmanship
Your daily wristwatch is an incredibly important and personal object, and we think you should have a choice of where it's put together. While we do offer the choice of Swiss and Asian assembly, our core offering is USA assembly by our team of technicians. The C-series line also offers the unique distinction of American-built Ameriquartz movements on select models. This new offering is our highest-torque, longest battery life quartz movement ever, and also provides over 60% USA-based source value when purchased with our USA-made leather straps.
---
2,000+ Compelling Reviews

A lot of brands have customer reviews, here at Vaer we have customer essays. Below are a few of our favorite pieces of writing from our owners about their experience with our company.
---
Relfecting on Two Years with the Vaer C5
I don't write many reviews; probably less than 10 in my whole life. I'm like Ron Swanson, where my recommendation is a personal guarantee of my experience. I've had the C5 field black quartz watch for maybe two years now before the site was updated and they had automatic watches. During this time small independent businesses need the respect and reviews they deserve, whether good or bad. I live in Colorado and see myself as a somewhat active person. I'm outside regularly for fun with lots of hobbies and I hit the gym roughly 4 days a week.

In the beginning I was cycling this watch with about two others. I wore the nato strap mostly and shuffled in the leather strap for going out. I did this for a while and really enjoyed this watch with the leather strap specifically and got many compliments. Aside from others I enjoyed this watch myself significantly. Then when the silicon straps came out a little bit ago the game was changed. Silicon straps are much more comfortable on the wrist for everyday wear to the majority of people. Plus their straps have many "latching holes" which offer more adjustability even furthering specific comfort. What about the durability of the watch? Day in and day out its been strapped on my wrist. I boat with this watch. I hang out in rivers with this watch. Used it in a chemical lab daily as I'm a chemist. I've gotten rained on, snowed on, been in blistering heat, fully submerged this watch, been rammed by some testy goats I was trying to help, and sported it out on the town for some inebriated shenanigans where who knows what happened to it happened.
As soon as the silicon band came out this watch became my only watch. I literally have only worn a dress watch three other times since having it. I try and keep my possessions in as good a shape as possible so that helps, but I could probably sell this watch to someone as if I've only had it for a month. I'm OCD and every once and a while sync my watch with an atomic clock and it holds very well. There's no need to worry about the accuracy. With all of this said of course I've only had the watch for about two years, and I only have sample size of one watch, but my watch has performed above my expectations enduring, at times, some strenuous conditions. Early on I even had some questions about the single pass leather strap and the owner responded promptly and was as helpful as you could hope. Other people's watches mileage might differ but hopefully I can come back here in another 5 years and write an even better review. If you're on the verge of pulling the trigger on this watch just do it. I was you two years ago and I pity you for not having it for as long as I have.

It is absolutely as advertised.
I usually wear either a Seiko Sarb035 or 017 (both great watches) but wanted a rugged, grab and go, field watch-and this little Vaer is exactly what I was looking for. The lume is honestly on par with the Seikos that I wear (not seiko diver good, but as good as any proportioned seiko). So if you're a lume nerd, you'll be happy. AR coating is great. Legibility is great. I love the size! At 36mm and quite thin, this thing wears very comfortable. I have a Seiko SKX007 and don't wear it much because I just find it too tall and too heavy. The black rubber strap is better then I expected. Fit and finish is good. The quartz movement seems to be very accurate thus far. I really like the 3-6-9 dial, but it's not just another Explorer knock off. Honestly, I don't know what else to say. If you're looking for a durable, classic sized field watch that punches way above it's price tag-this is it.
Feedback from a Few Rolex Owners
I wore my VAER watch on a recent hike on the 300-mile Lake Superior Hiking Trail. The trail follows Lake Superior's Arrowhead shoreline on the East while meandering through its Coastal Forests on the West. My VAER balked at thunderstorms, rainy campgrounds, muddy river washings and the many daily drinking water stops where both hands were in creeks and rivers filtering water into my Nalgene. My VAER Classic proved to be necessary gear on the trail yet remains to be stylish and sophisticated back home. I love wearing it. A side note: My Rolex and other watches have been in my safe since acquiring my VAER.
I purchased the Classic and have had it for 4 days now. I am very excited about this purchase mainly because of the quality. I collect watches namely Patek Phillippe, Rolex, Omega and IWC. I've been collecting for over 20 years and this is only my second quartz. I am so amazed at the build quality and finishes that rival many of the much more expensive automatics. This watch hasn't lost a second since I synced it. Changing of the bands is a huge bonus, can dress up or for daily wear. I haven't taken this watch off since I received it, super comfortable and simple. I just ordered a Field Watch this morning based on the quality and craftsmanship of the Classic. It's great that it's assembled in the USA. All I can say is this is one great company and will definitely do more business with them in the future. Thanks guys for your attention to detail.
It's been about 1.5 months since I received my watch. Simply put, I love it. I literally haven't taken it off since it arrived. (My Rolexes are quarantining now too.). You deliver what your promise: the perfect watch to wear at all times. It's the perfect watch for WFH, the beach, swimming with family, and living. Keep doing what you're doing. Vaer is the best watch for the money and the best watch for the summer.
---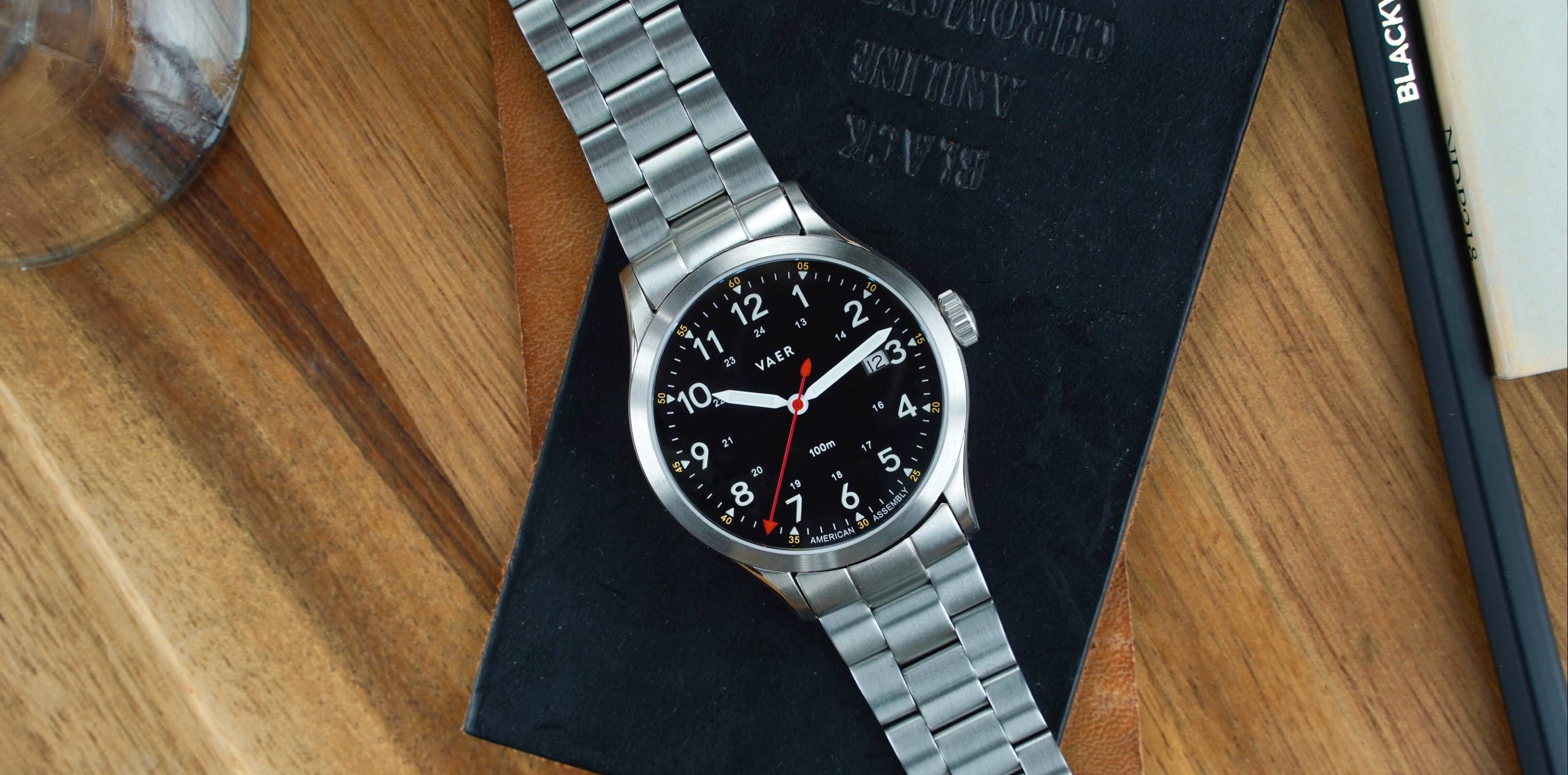 ---
---
Watch Model
Diameter
Case Material
Sapphire Crystal
Thickness
Lug-to-Lug
Case Weight
Weight inc. Strap
Water Resistance
Movement
Battery Life
Timing Tolerance
Lume
Strap Size
C3/C5
36mm - 40mm
316L Steel
Single Domed
8.4mm - 9.4mm
42mm - 48mm
38 grams - 48 grams
46 grams - 56 grams
10ATM (100m)
Ronda 715 & Ameriquartz
40 Months
"-10/+20 sec/month
SuperLuminova C1 & BGW9
20mm
---
Assembled and Tested in America
Guaranteed waterproof warranty
24-month warranty
Polished highlight chamfering on case & lugs
Satin brushed stainless steel case
Hacking seconds
Vaer engraving on crown, caseback and strap buckles
Screw-in crown and caseback
Standard Quick Release 20mm Silicone Strap
Free second strap (Nylon or Horween Leather)
Optional Made in USA Horween leather strap
Signed certificate from assembly technician
Premium watch giftbox with embossed Vaer logo
Cross-compatible with all Vaer 20mm straps
Starting at $199
Free Shipping & Easy Returns

Some aspects of build quality can only be judged in person. That's why we make it easy to test out our watches at home. Purchase today for a 30-day trial period, and if it doesn't meet your expectations, we're happy to offer a full refund or exchange.
---