Discover our USA Assembled Divers for only $499
Professional Grade,
Individually Made

With a guaranteed waterproof warranty, sapphire crystal and exhibition caseback, X1-grade SuperLume, and looks to put most $2k watches to shame, this is the all-in-one everyday Dive watch you've been waiting for.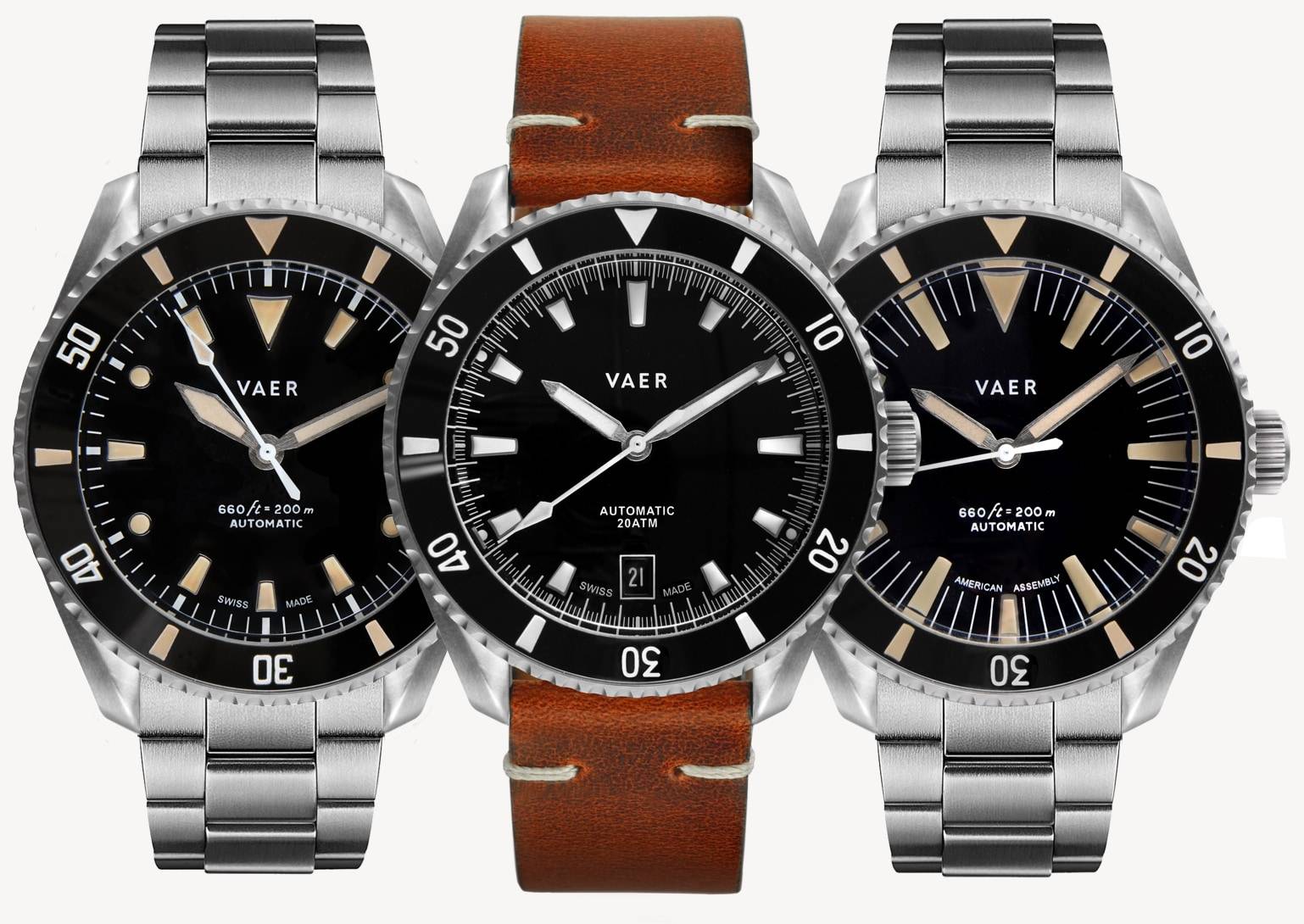 ---
All Vaer watches are ocean-ready. Our diver goes to the limits of real-world depth exposure.  
All Dive watches feature a scratch resistant double domed top crystal, and a sapphire caseback.

Our D5 Diver is assembled and tested in America, while our D7 model is Swiss Made.
---
The Luxury of Never
Worrying About Your Watch
We believe the best products are those that you can count on for years of everyday wear - from office, to ocean, to overseas travel. While luxury items have their time and place, we've built our Dive Collection for those who want a beautiful, well-built watch that they never have to worry about.
---

---
Swiss Precision,
Minus the Markup

The D7 USA Diver is available in 3 complimentary design combinations, building on the core case with unique details and finishing. The line-up ranges from the refined and contemporary Atlantic, to the historic, military inspired Arctic. While we have a hard time picking a favorite, if you need help choosing a design, we're always here to provide our advice.  

---
---
20 ATM (200 meter) depth tested with a locking screwdown crown
Vaer has always been an ocean-based brand. Headquartered half a mile from the Pacific coastline, we view water resistance not merely as a hypothetical "nice-to-have," but as a functional everyday necessity. While the locking 10ATM rating of our C-series and A-series watch line-up covers 95% of in-water use cases, it was important that the Diver went a step above. At 20ATM this watch covers all real-world depth exposures, while maintaining highly requested aesthetic features such as a slim profile and a sapphire exhibition caseback.
Compatible with all Vaer watches & straps
We've always sold our watches with two straps, and we continue this tradition with the Vaer Dive lineup. All watches come standard a retro-inspired waterproof tropic strap, and your choice of a custom second strap, which include a stainless steel metal bracelet, USA-made Horween Leathers straps, and a range of ocean-ready nylon designs.  
Take your pick between USA or Swiss assembly and testing
Your daily wristwatch is an incredibly important and personal object, and we think you should have a choice of where it's put together. Our core offering, the Vaer D5 Diver is a premium USA assembled automatic diver powered by a Japanese made Miyota 9015. Our luxury offering will be the Swiss Made D7, powered by a fully decorated ETA 2824 movement.
---
A lot of brands have customer reviews, here at Vaer we have customer essays. Below are a few of our favorite pieces of writing from our owners about their experience with our Dive Watches.
---
I really love this timepiece. I quickly swapped out the tropic strap for the horween leather, and it has been getting more wrist-time than anything else in the rotation lately. It is simply elegant. It reminds me of my dad's old submariner 5512 which I always admired. My brother got that one water-logged before it ever made its way to my wrist. This watch has a rugged feel and nearly flawless dial. So easy to read the time and so easy to stare at. On top of this, mine has been running at a superb +4 sec/day. If it holds up like it looks like it will, my kids can fight over it when I'm gone. Bravo Vaer!
---
Exceptional timepiece and service!

I received my D5 Atlantic today, and I must say that it greatly exceeds all of my expectations! Even with the VAER online pictures and recent video, seeing the watch first hand is truly exciting and in some ways beyond belief! All aspects of the planned design have been executed with great care and precision. VAER has created a beautiful and extremely high quality timepiece. I honestly don't understand how they managed to do it, and offer this incredible watch at such a reasonable price. Thanks very much VAER for your hard work, and your determination to achieve such a great vision. And thank you for the great service....Ryan and Reagan were incredibly responsive and helpful throughout the early inquiries and addressing my questions leading up to delivery. I will be very happy to recommend this impressive brand!
All in all, this is GREAT watch and I find myself reaching for it more often than my other divers.
I LOVE this watch. I chose the D5 Pacific White version for a few different reasons. First of all, I like the longer minute markers and the absence of the date window makes the dial more symmetrical and visually stunning. I'm not a huge fan of the fauxtina and the high contrast between the pure white indices and the black dial makes the watch very easy to read in different lighting conditions. I'm also a local to the area in Southern California where VAER is located and I was very interested in the American Assembly aspect of D5.
THE CASE is 100% beautifully brush-finished, with the only high polish being on the underside of the bezel, which produces an interesting reflection where the bracelet mates to the case. On most watches, the underside of the bezel wouldn't show at all but on the D5 the bezel overhangs the case by about a millimeter, making its coin-edge easy to grab and turn. The 120-click unidirectional bezel has a smooth, but solid action and almost zero back-play. The Arabics and indices on the black high-gloss ceramic bezel insert is also fully-lumed and the indices line up perfectly with the dial. Kudos for that! The bezel is also angled to seamlessly match the angle of the domed sapphire glass helping the watch to easily slide under your sleeve. The unguarded 7mm diameter screw-down crown is located at 3 O'clock, and signed with the VAER logo. It's large enough to easily grab and manipulate, but not too big as to detract from the sleek vintage profile of the watch. In my opinion, the crown is the perfect size for this case. The sapphire-windowed exhibition display case back is ******* on and engraved with Designed in Los Angeles, American Assembly, 20ATM water resistant, sapphire glass, and the serial number, 02/100.
THE CRYSTAL is a surprisingly tall double-domed sapphire which seamlessly mates with the bezel. Being a double dome it has very little distortion and the watch is easily readable from any angle, at least above water. (Note: I have not had it in the water yet). There is also a generous coating of anti-reflective coating on the inside of the crystal. Without a doubt this glass is one of the most attractive pieces I've seen in this price range. Kudos again.
THE MOVEMENT is the 24-jeweled Miyota 9039 dateless version of the 9015. It's a relatively newer movement and is thinner than the Seiko NH35A with a shorter hand stack, suitable for dials without very tall applied indices. The unidirectional rotor has a very heavy feel when you spin it. The rotor is moderately decorated with some glitter near the edge and signed with the VAER logo. The movement operates at 4 hertz, 28,800 beats per hour or 8 beats per second, giving the second hand a smooth sweep. It has a health 40 hour power reserve and mine is operating at about -4 seconds/day average on my wrist and in the winder.
THE STRAP is a basic rubber tropic with a signed VAER buckle. It's quite supple and comfortable. I ordered mine with the bracelet.
THE BRACELET is 316L stainless steel oyster. The finish is brushed throughout and the links are solid, including the end links. The bracelet has quick release levers at both ends of the pin which was very useful since I found the bracelet a bit difficult to install. The fit is very snug and there is no gap anywhere between the end links and the case. The clasp is a friction fit with security flap which is signed "VAER." The clasp has a rather ordinary feel about it, not cheesy, but not the best either. It has four micro-adjustment positions so obtaining a perfect fit is easy. But this is one area they might consider improvement. A proper milled clasp with a diver extension would be well worth another $30.00 or $40.00 in my humble opinion. This is a nice watch and it deserves a nice bracelet. That said, the bracelet is still my choice for every-day wear.
THE LUME is adequate. The large indices and Arabics on the bezel glow like a torch initially, but they just don't seem to last as long as some of my other divers. This is only a small ****** and I only mention it as possible room for improvement. The lume is still better than most, but it doesn't glow like a Seiko. On the other hand, it isn't misaligned like many Seikos either.
All in all, this is GREAT watch and I find myself reaching for it more often than my other divers. I think VAER's first venture into the dive watch category has been a solid effort. I would definitely recommend the D5 Pacific. It punches way above its weight in the $500.00 range.
Excellent Build and Design
I just received my Vaer Atlantic D5, with bracelet. I must say that I was already thrilled with the specifications of this piece. After receiving it, frankly, I still felt amazed at its quality, beauty and all around cool stuff. It feels awesome on my wrist. I bought it to celebrate a few personal touchstones. Your brand is a great idea.
Go Back in Time with this Class Act
Before writing this review on your watch, which I adore, I knew there was some Omega in the DNA. Ok, a lot. But I had no idea how grounded it was in the 60s Omega 300 Seamasters. You all should be mighty proud of yourselves with this incredible nod to those pieces, though most will not know why your Vaer diver is so 60s sweet. A slightly different coin edge bezel than the originals, and a non-recessed crown that is more reminiscent of a pilot's crown (both didn't/don't have crown guards, though the 60s is a bit recessed), and the lovely lightly domed sapphire crystal...all makes this not a copy. But certainly a loving and well done look to the past. Will not use the word 'homage' as an homage is more replica-ish, and this strikes out on its own territory; and homages usually don't pick a sophisticated not highly known model from 55 years hence. I would say this is just a super affectionate slice of a style and moment in dive watch history that thankfully SOMEone decided to do. And do it beautifully constructed and reverence, you guys did. The bright lume, not just on the dial but ceramic bezel, are some nods to what vintage lovers want, nevertheless, in our new timepieces. What almost shocks is how big and flat this piece beautifully looks on the wrist, while somehow being a very vintage 39mm. Everything is done superbly, delightfully the sword hands and arrow seconds as well. If you can go for the Swiss version as I did, do so. A watch this fine deserves to say Swiss on the dial. But with other engines too, it will be a real deal as well, as was the outrageously cost conscious Swiss version on my wrist. I went for the tropic diver, to go back to the 60s as best I could, and I feel like it's 1966 all over again. Truly appreciate what you guys did. It was worth waiting for despite the covid-delays. Lastly, the design and production quality not only exceeds almost all microbrands I've ever purchased, but the same for major Swiss-made brands as well.
---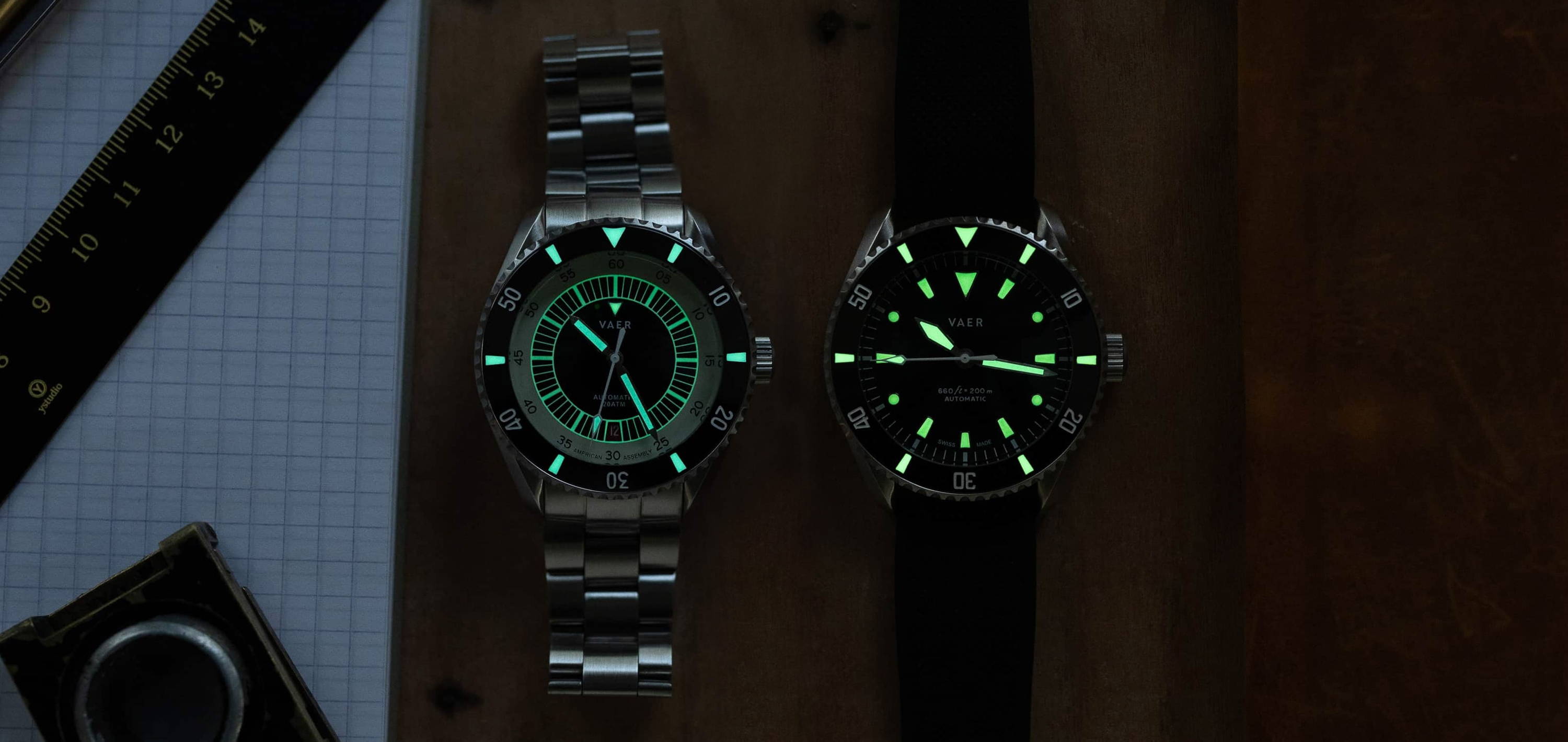 ---
---
Watch Model
Case Diameter
Bezel Diameter
Dial Color
H+M Hand Color
S Hand Color
Case Material
Case Back
Sapphire Crystal
Bezel
Case Thickness
Thickness w/ Crystal
Lug-to-Lug
Case Weight
Weight inc. Strap
Water Resistance
Movement
Power Reserve
Regulated Accuracy
Lume
Strap Size
D5 Dive Watch
39mm
40mm
Black
Brushed Steel
White
316L Steel
Sapphire Exhibition
Double Domed
Cermic w/ Lume
11.6mm
13.7mm
48mm
66 grams
84 grams
20ATM (200m)
Miyota 9015
40 Hours
-5/+15 sec / day
SuperLuminova X1 C1
20mm
---
Assembled and Tested in America
Guaranteed waterproof warranty
24-month warranty
Polished highlight chamfering on case & lugs
Satin brushed stainless steel case
Vaer engraving on crown, caseback
Japanese Miyota 9015 Automatic
28,800 Beat Rate
Hacking seconds
Parashock anti-shock system
Screw-in crown and caseback
Ceramic 120 Click Uni-Directional Bezel
15 Layer X1 C1 Super-LumiNova
Double Domed sapphire w/ internal AR
Standard Quick Release 20mm Tropic Strap
316L Bracelet - 20mm to 18mm taper Dive Clasp
Bracelet with 4 Adjustments, Solid end links
Optional USA Made Horween leather strap
Signed certificate from assembly technician
Watch giftbox with embossed Vaer logo
Cross-compatible with all Vaer 20mm straps
Starting at $499
Free Shipping & Easy Returns

Some aspects of build quality can only be judged in person. That's why we make it easy to test out our watches at home. Purchase today for a 30-day trial period, and if it doesn't meet your expectations, we're happy to offer a full refund or exchange.
---