Why do owners love our watches?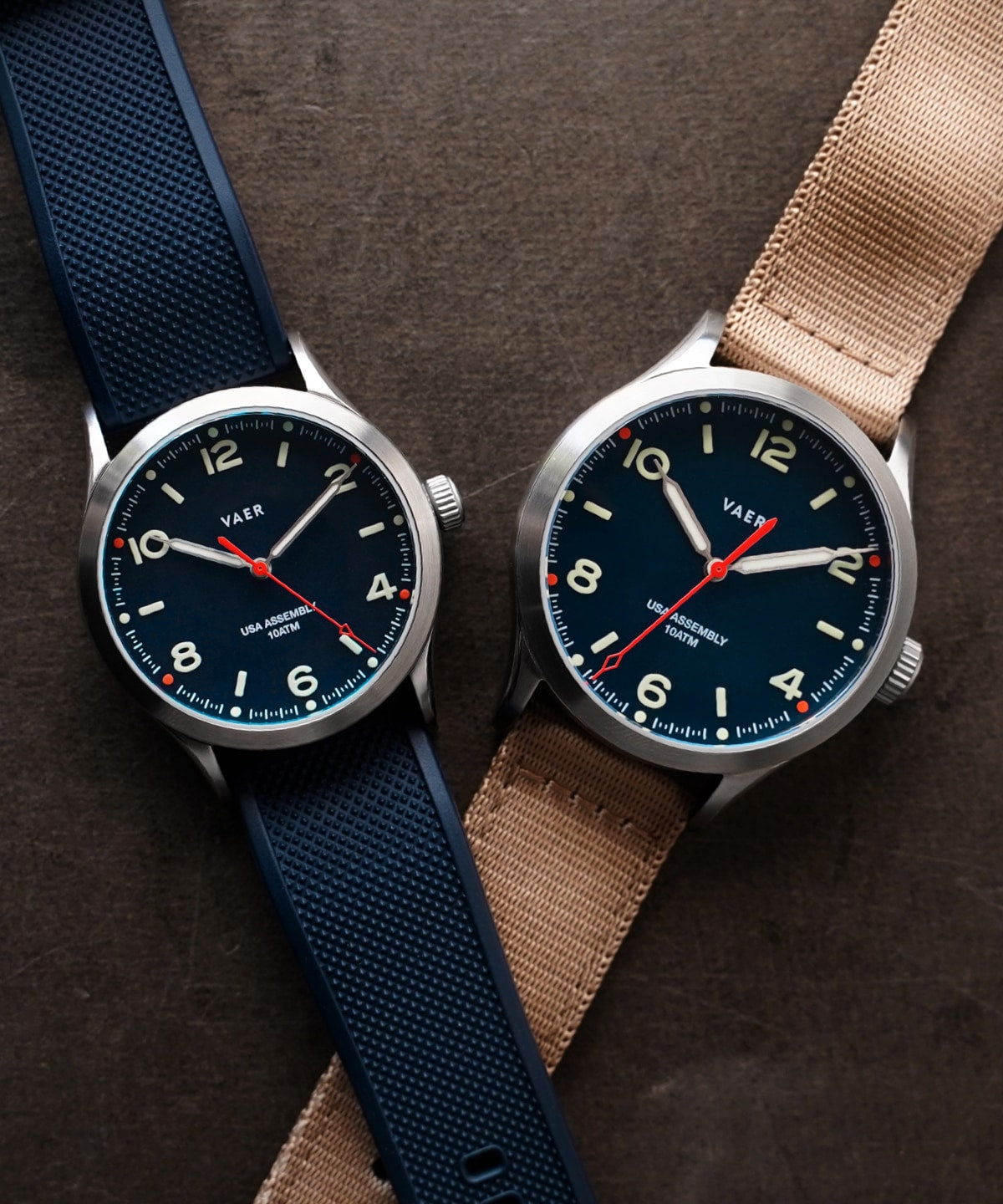 1) Perpetual Power
This is a wonderful watch at a great price point. The 36mm size is perfect for my 7" wrist. The solar movement is just what I was looking for. It is keeping perfect time, not a second gained or lost over the two weeks I've had it and I can count on it to maintain its charge over the long haul in the brilliant sunshine of Hawaii. The sunshine also gives me great lume performance. That makes this the perfect EDC watch.

Siegfried R.| Verified Buyer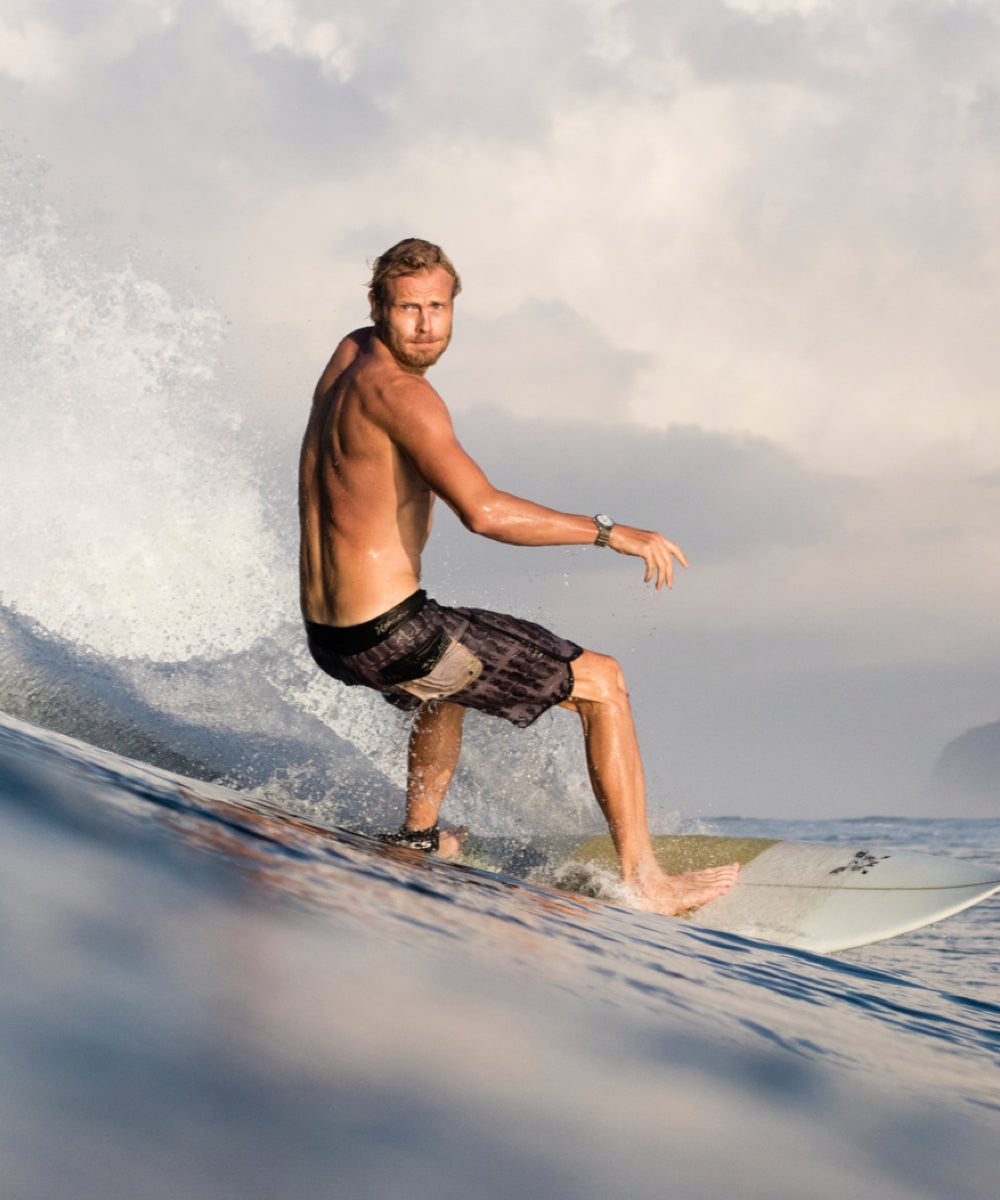 2) Made for the Water
"Bought a watch from Costco that was supposed to be waterproof and it leaked. Decided to try Vaer, and love it. This is the best watch I have ever owned. I have three bands; one for surfing, one for working and the upgraded stainless steel for weekends, it's like having 3 watches in 1."

Arturo A.| Verified Buyer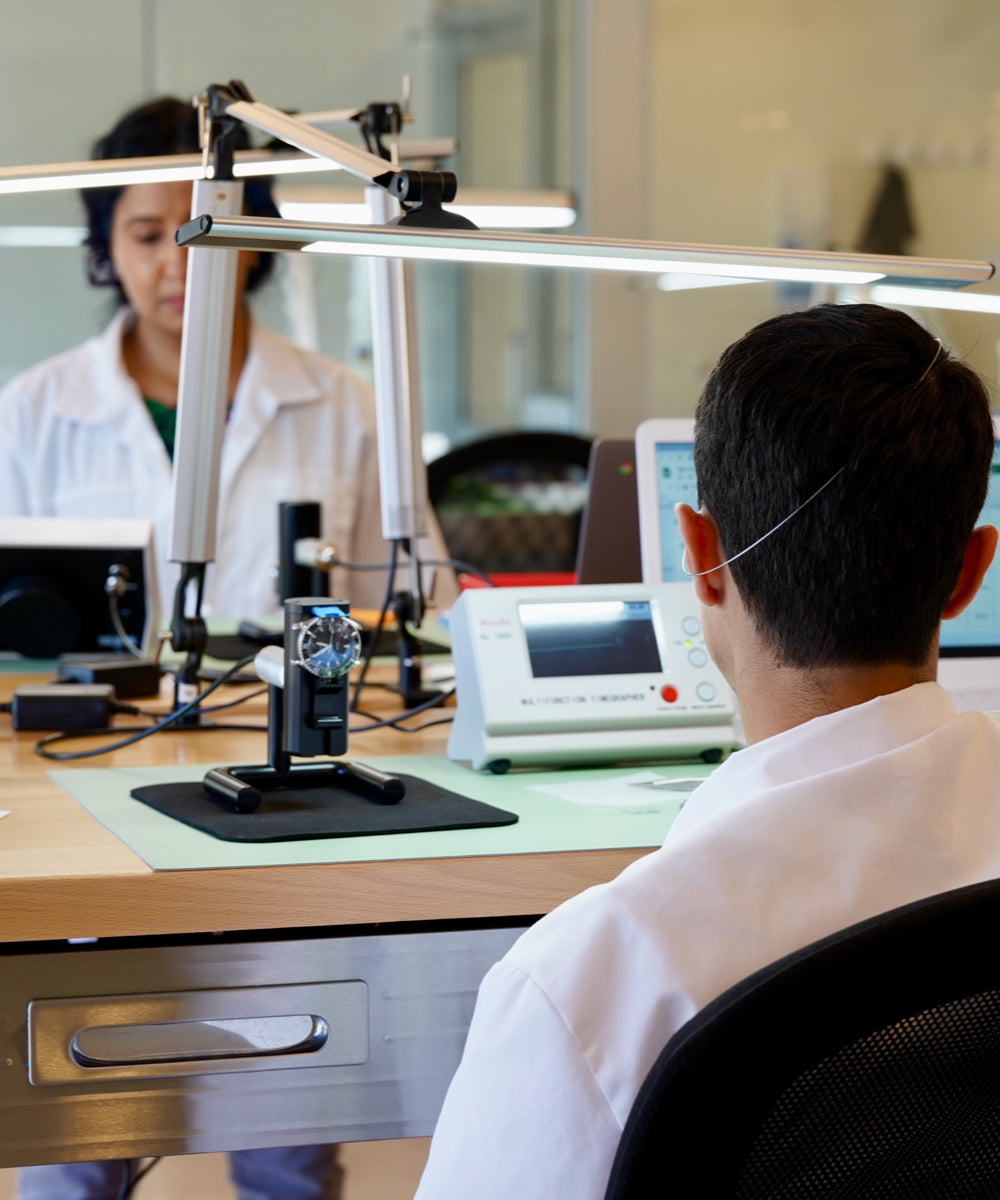 3) American Sourcing
"I have always been a "buy American" type of person, and I am so happy to finally be able to buy a watch that is mostly American made. It is amazing to me that you can buy an American assembled watch, that's rated to 100m, with a sapphire glass crystal for less than $300!"

Malcolm S. | Verified Buyer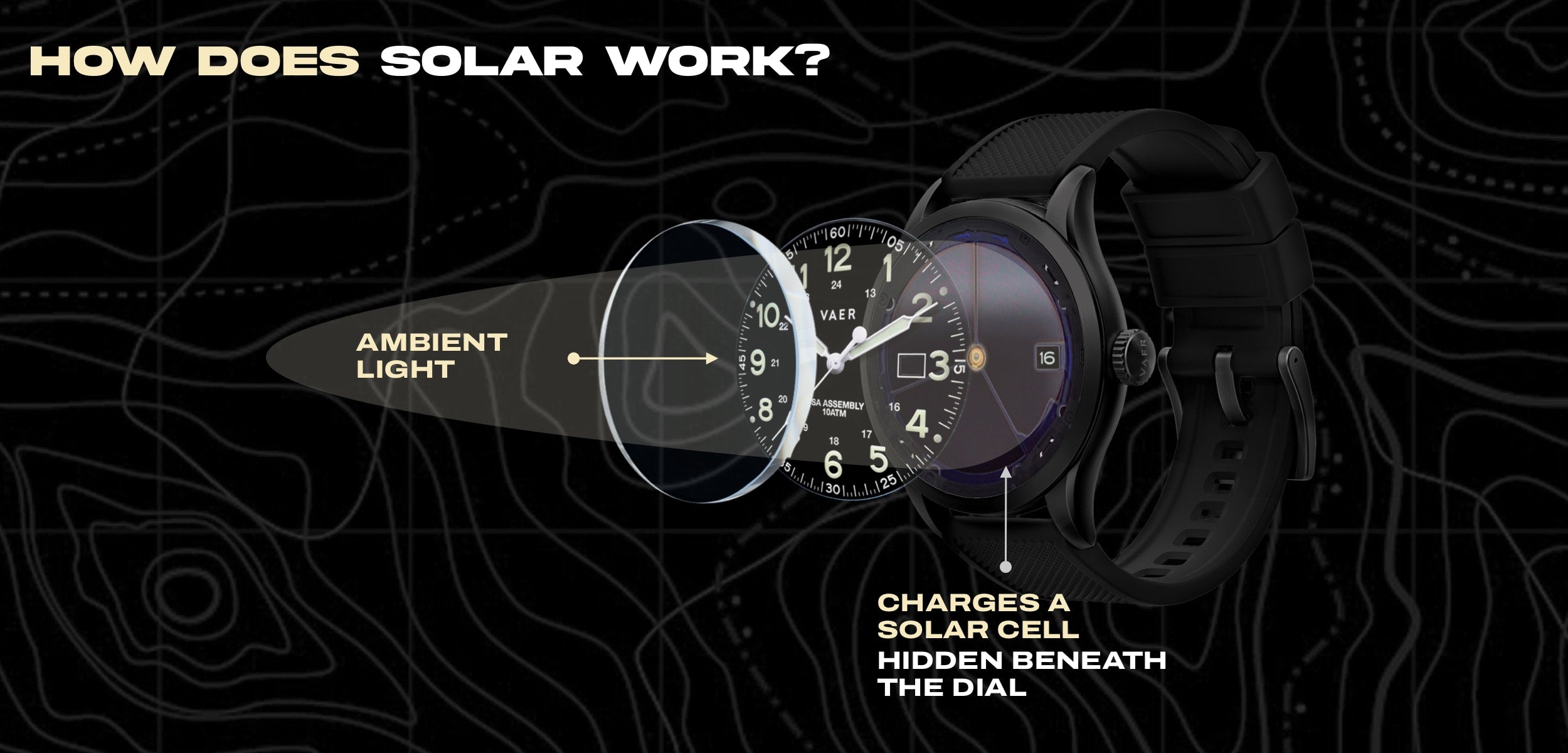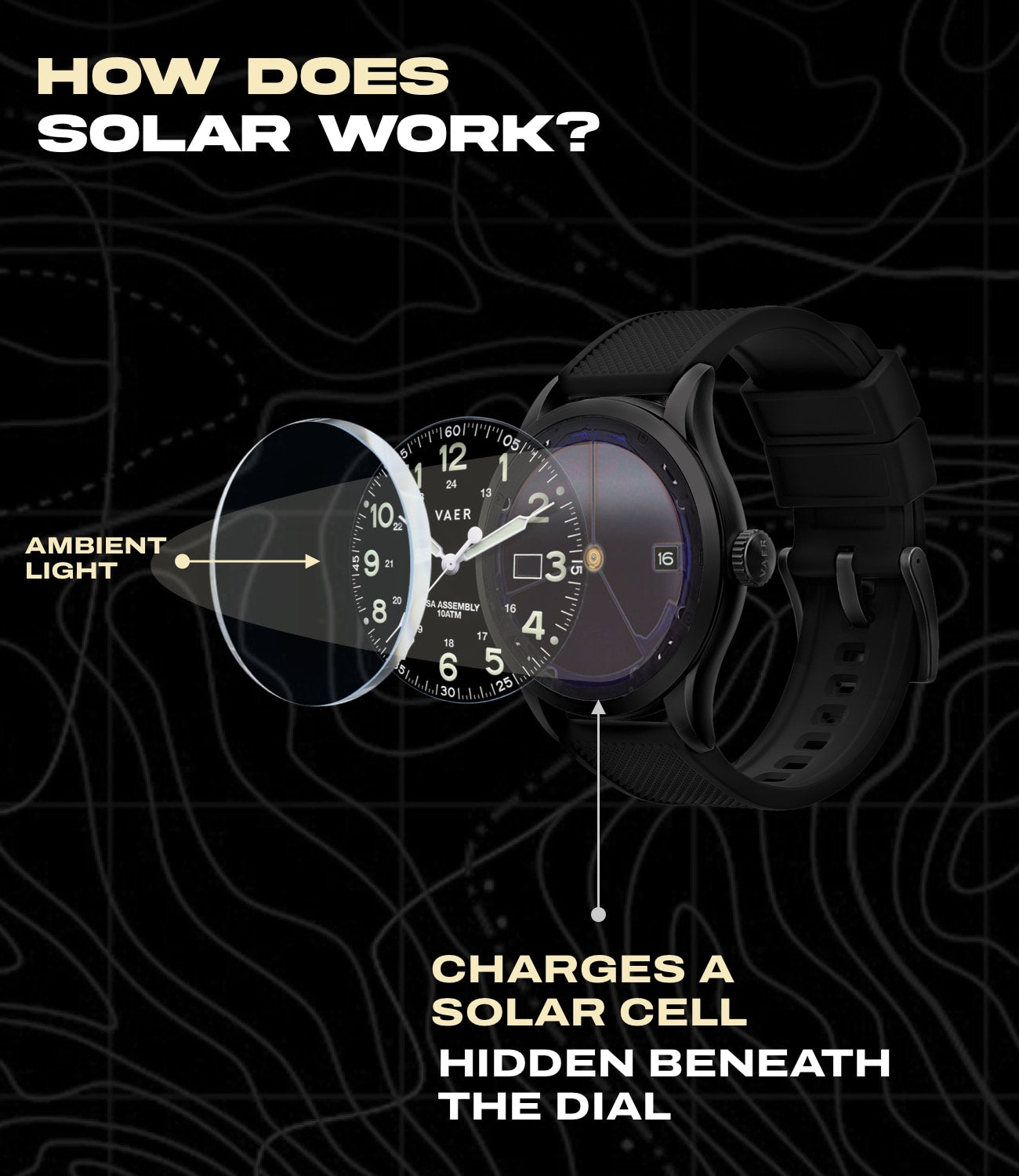 Our Bestselling Field-Solar Watch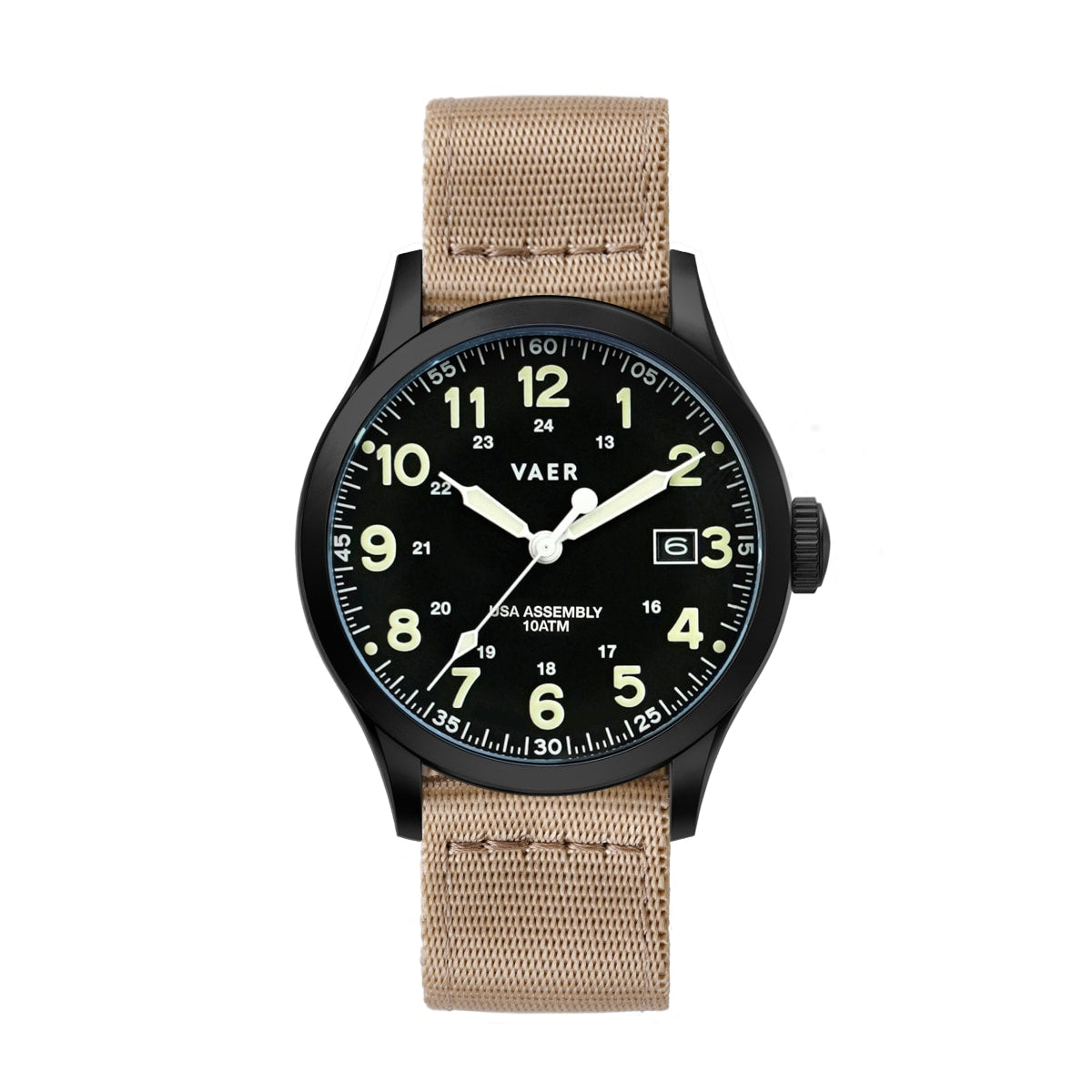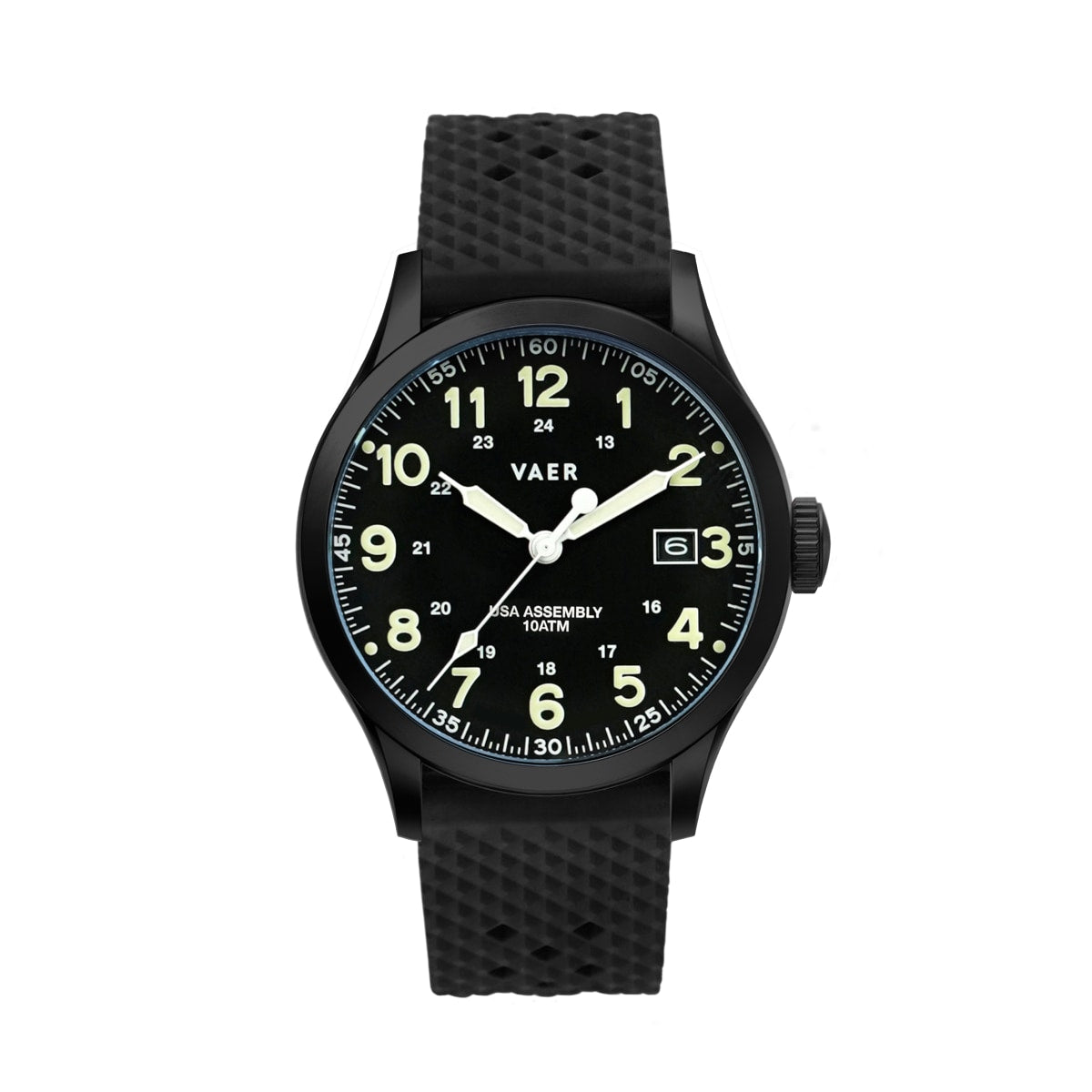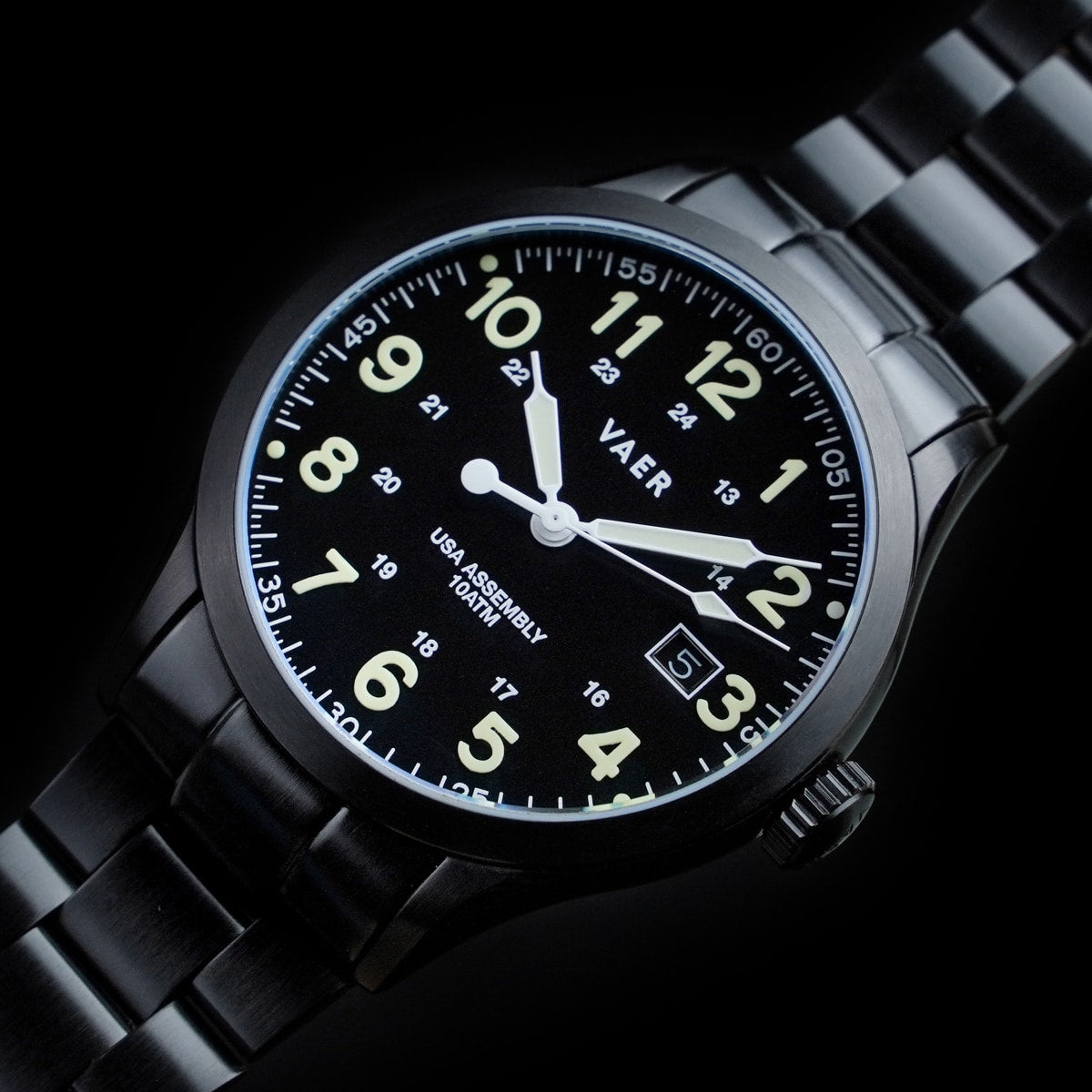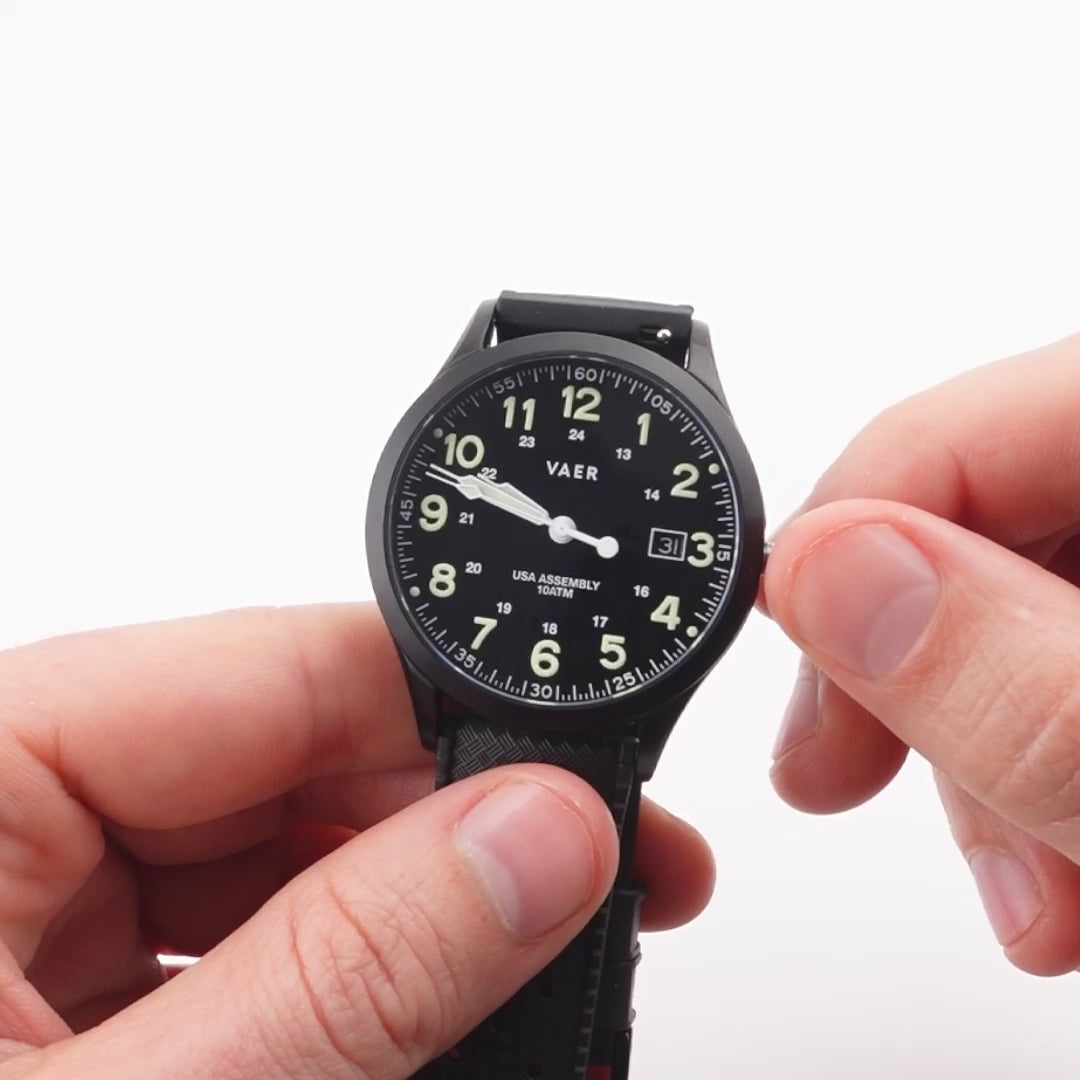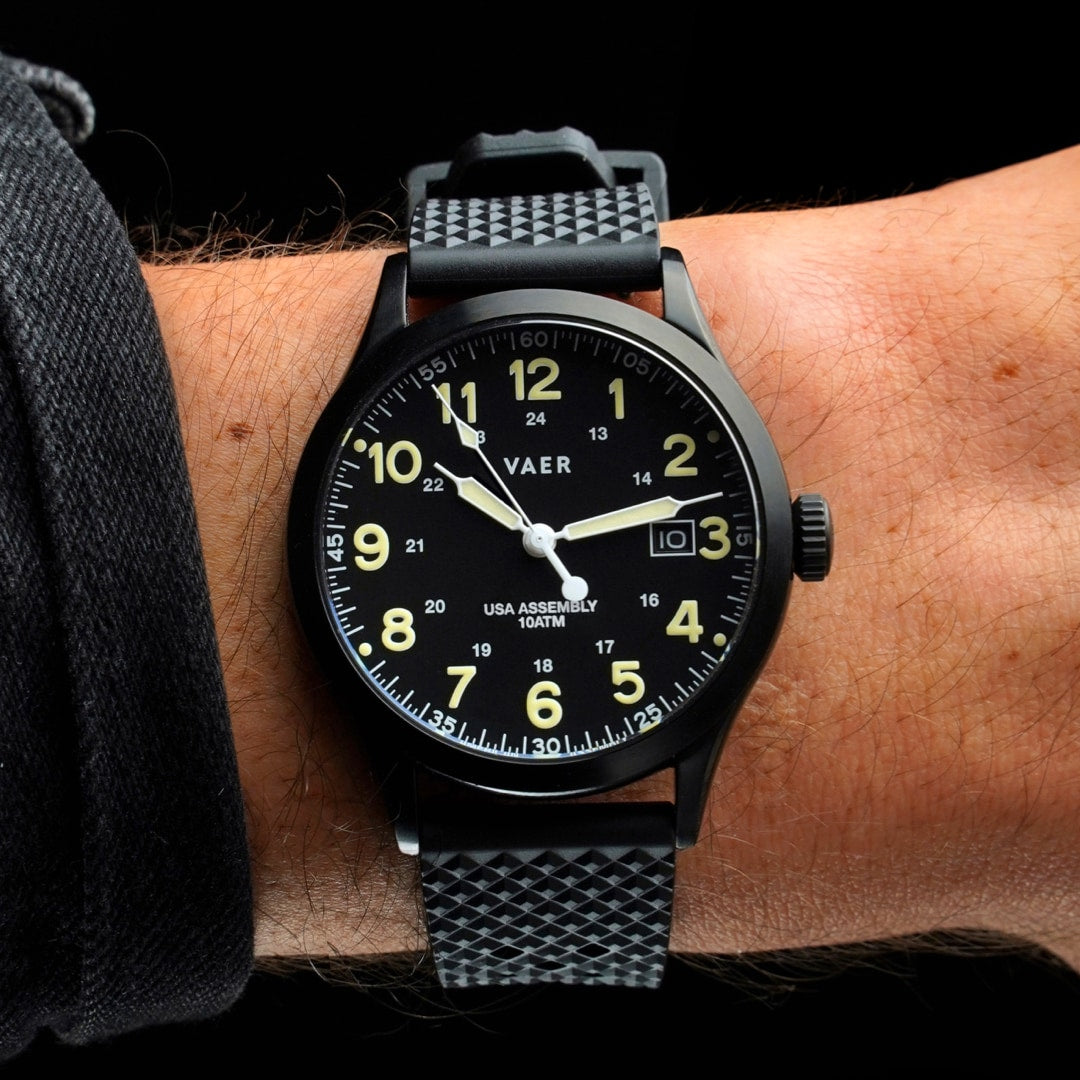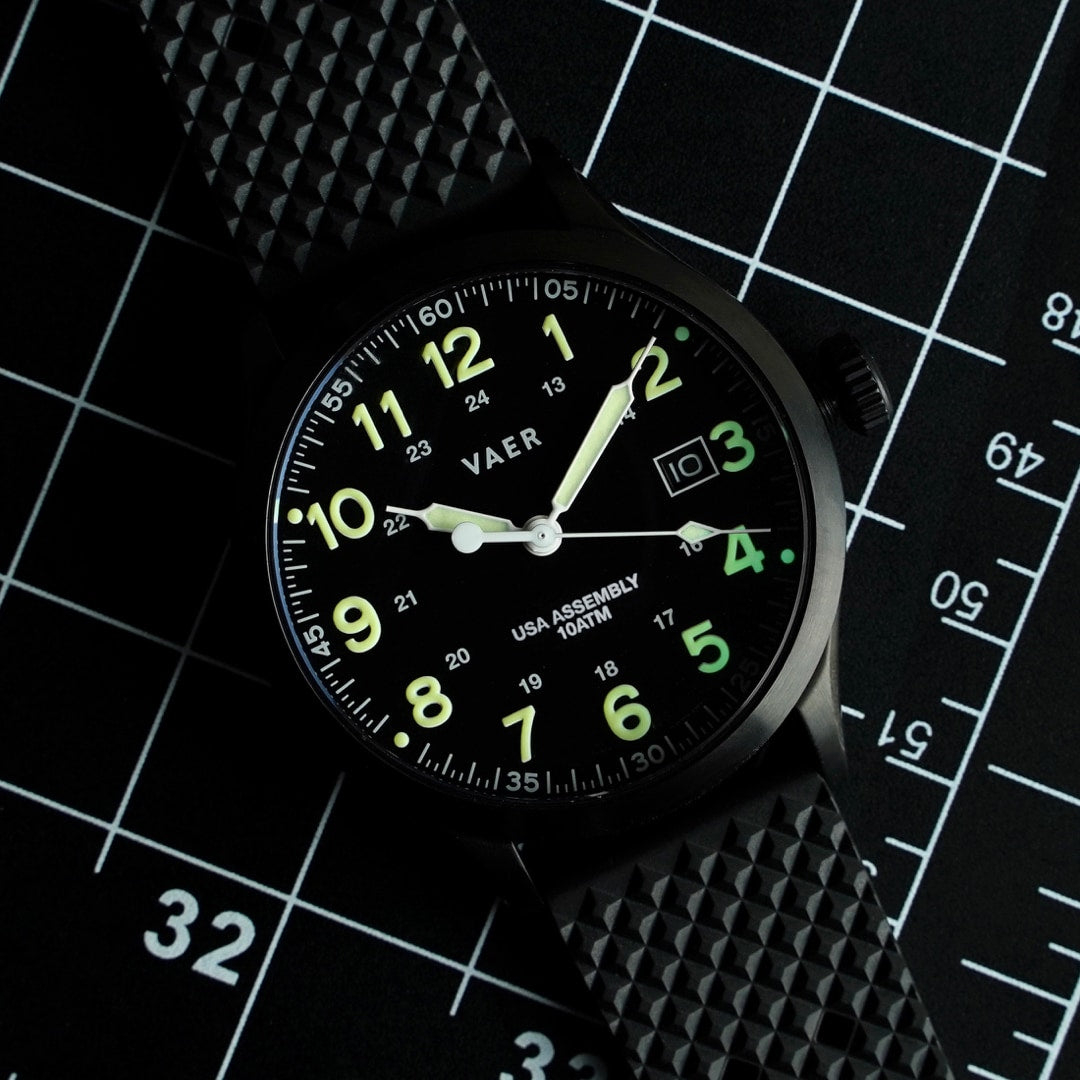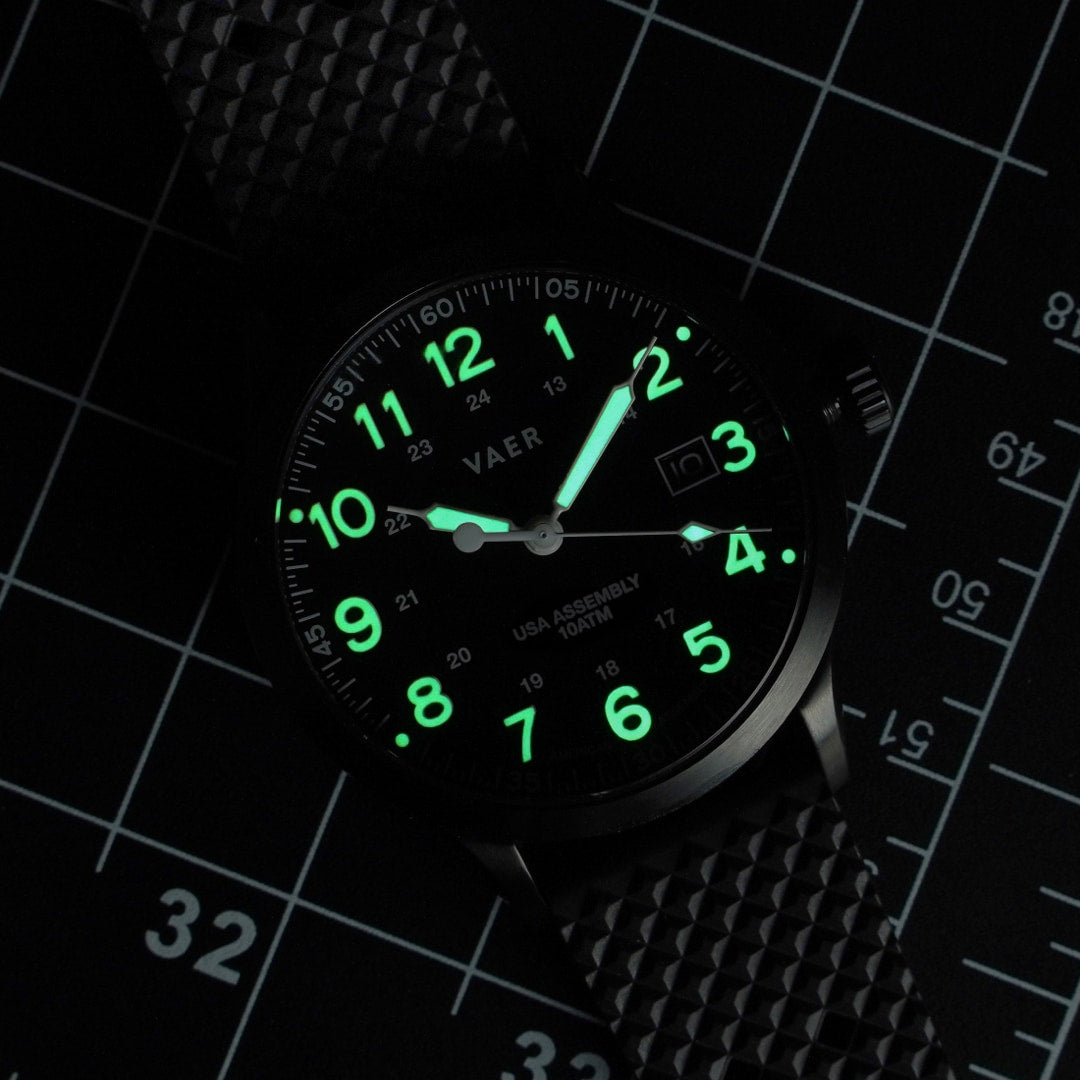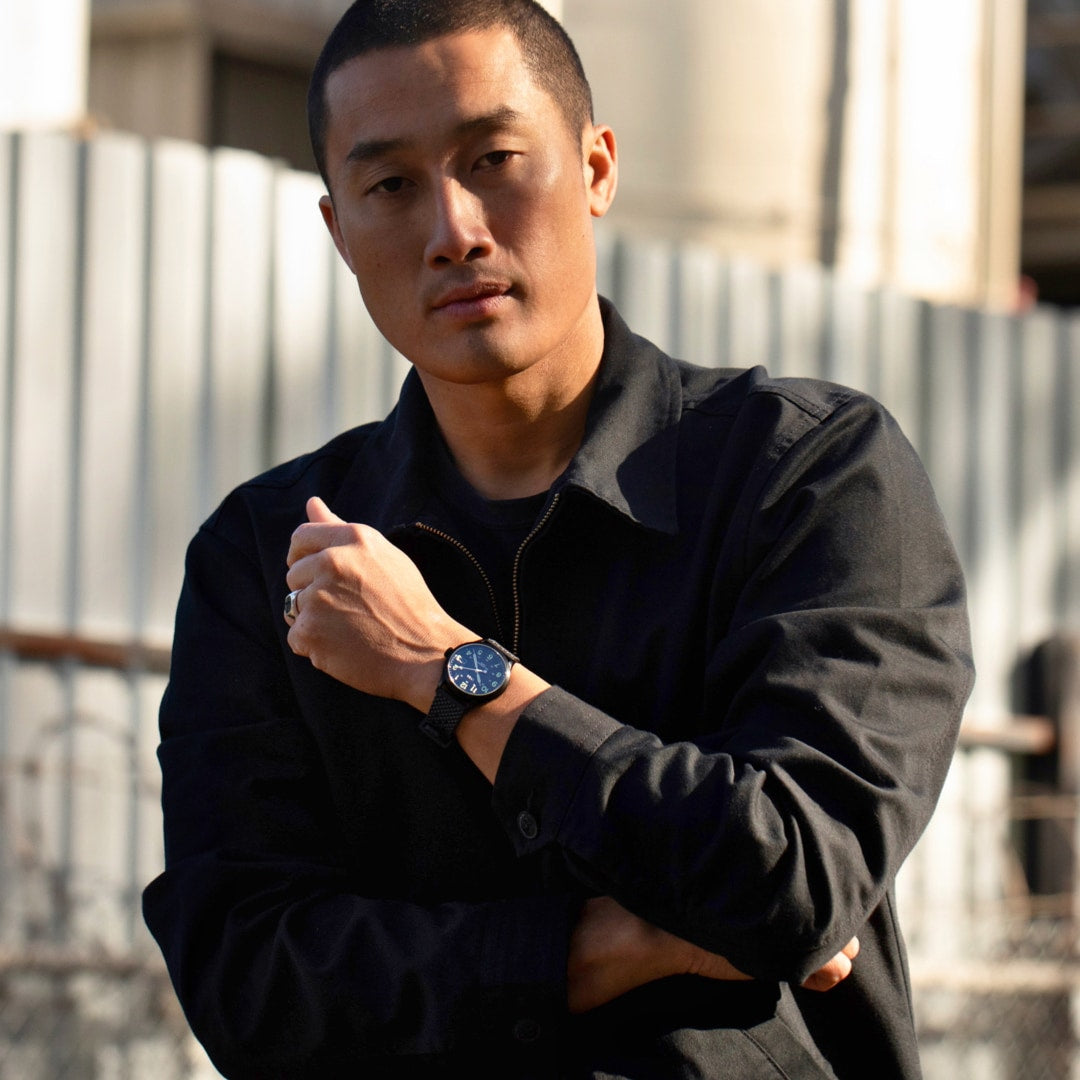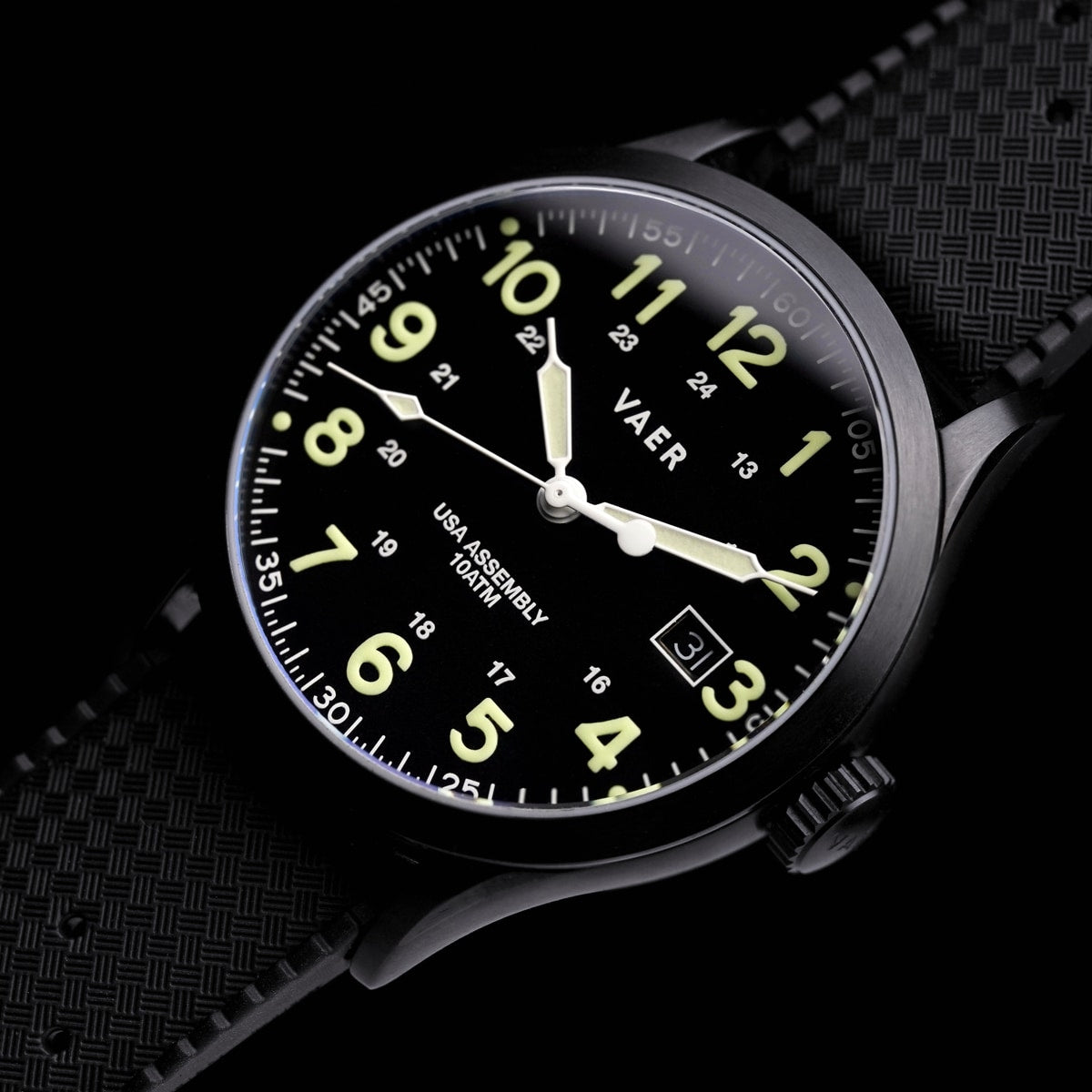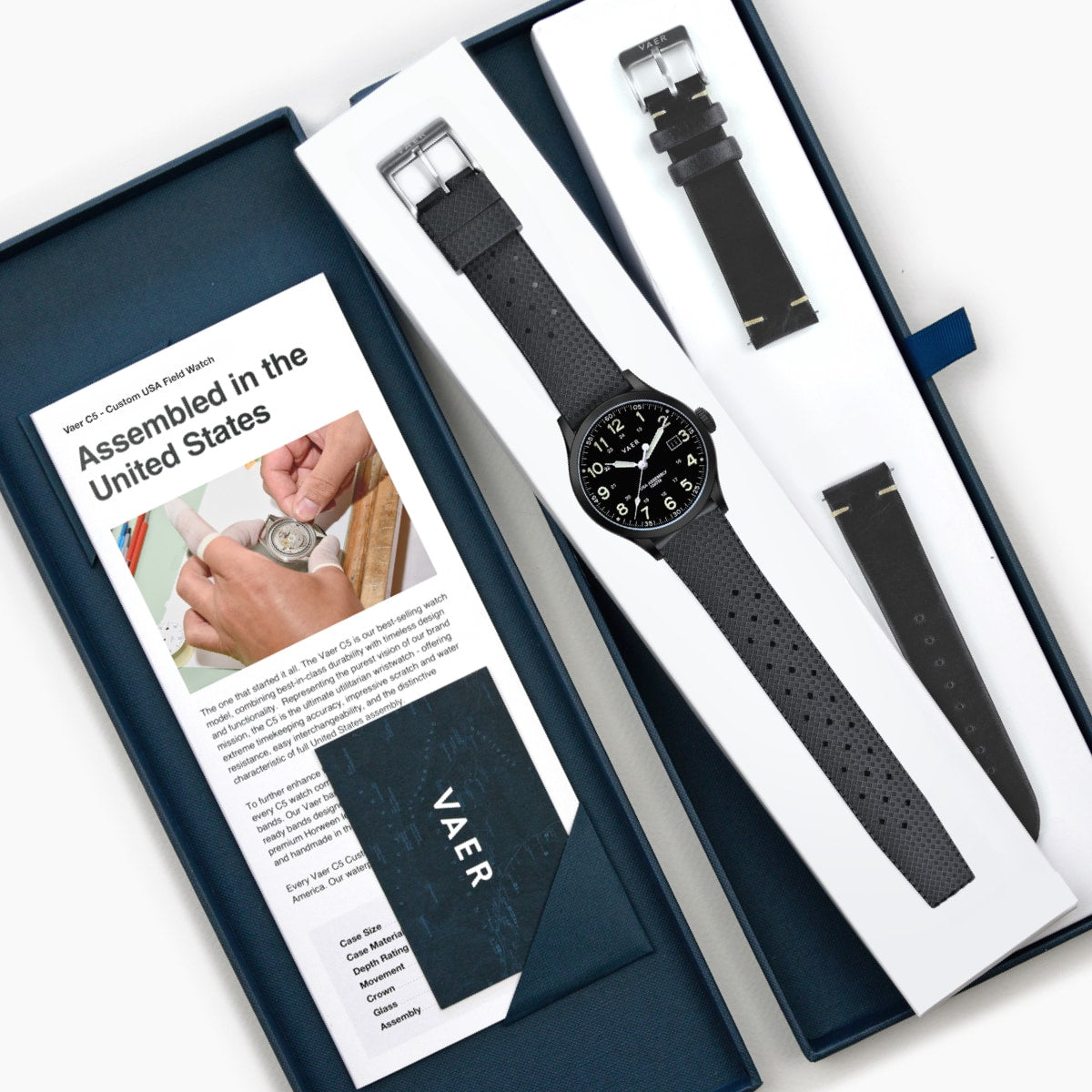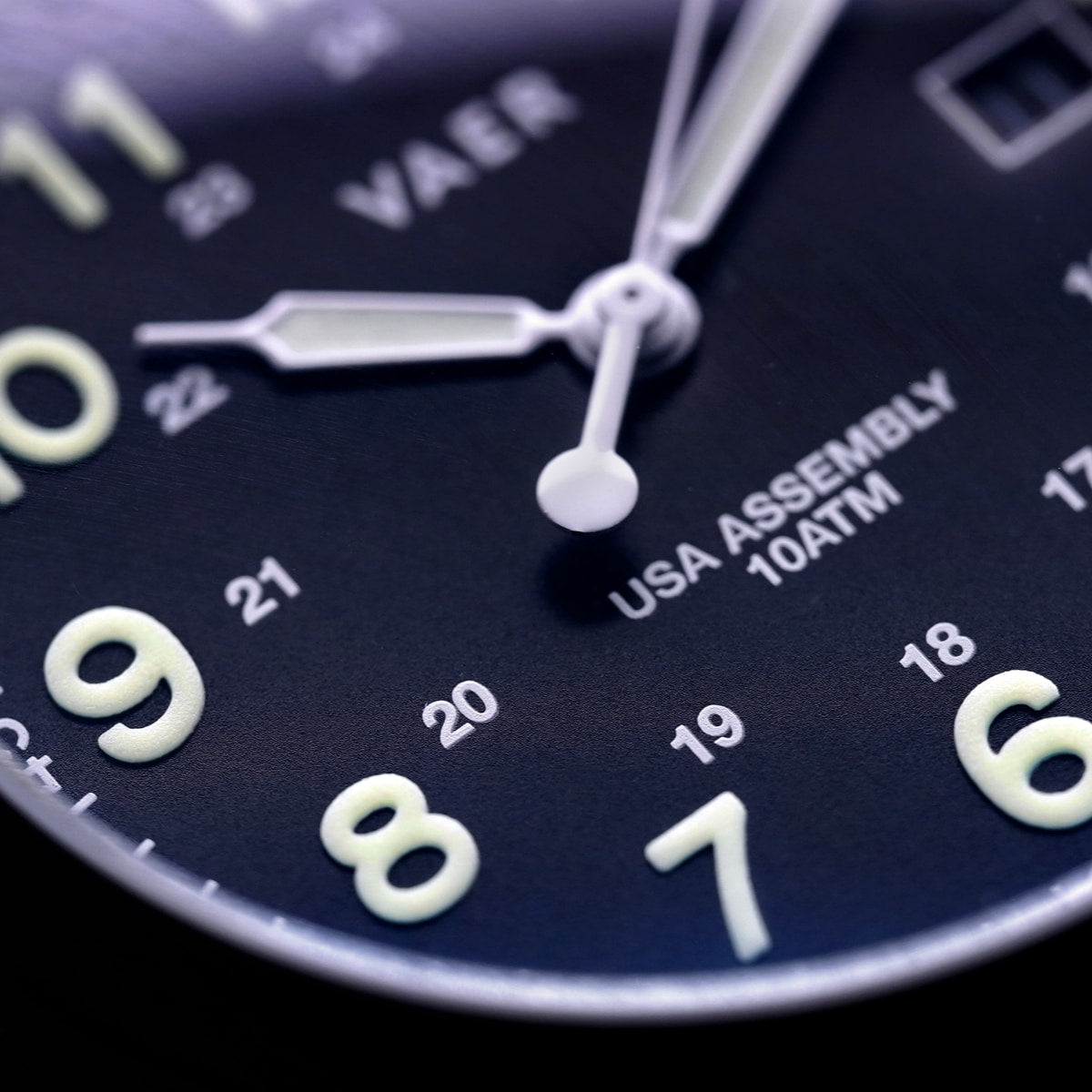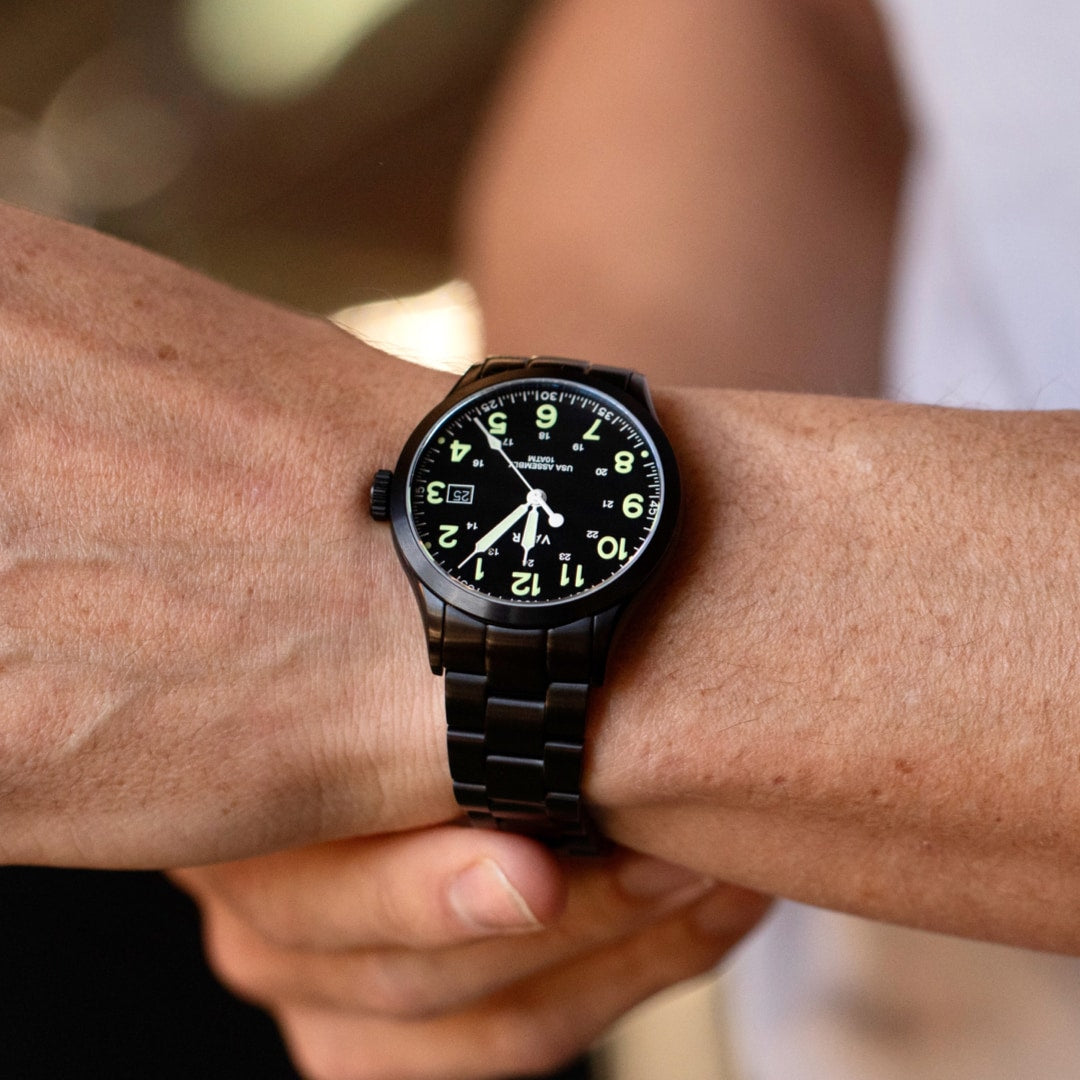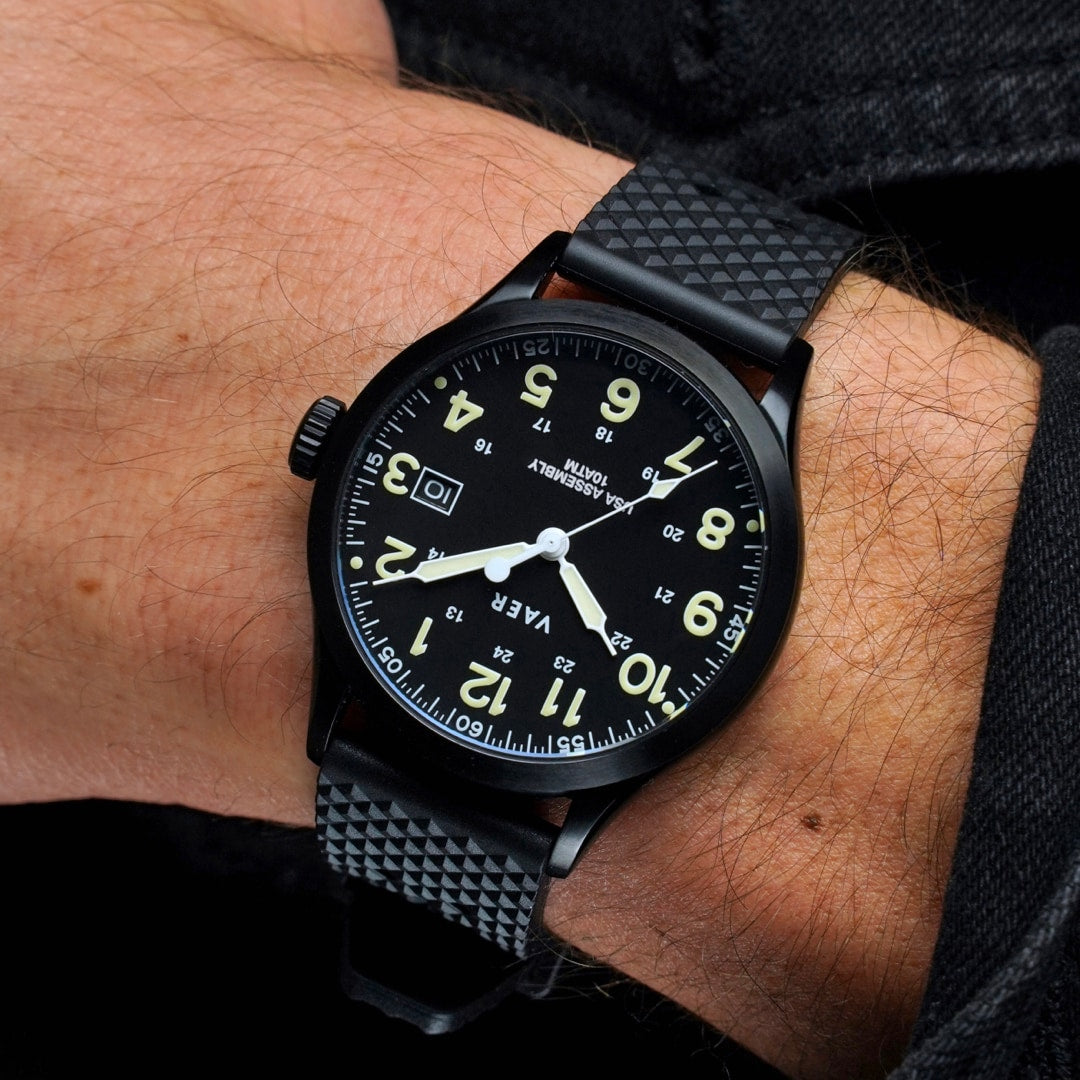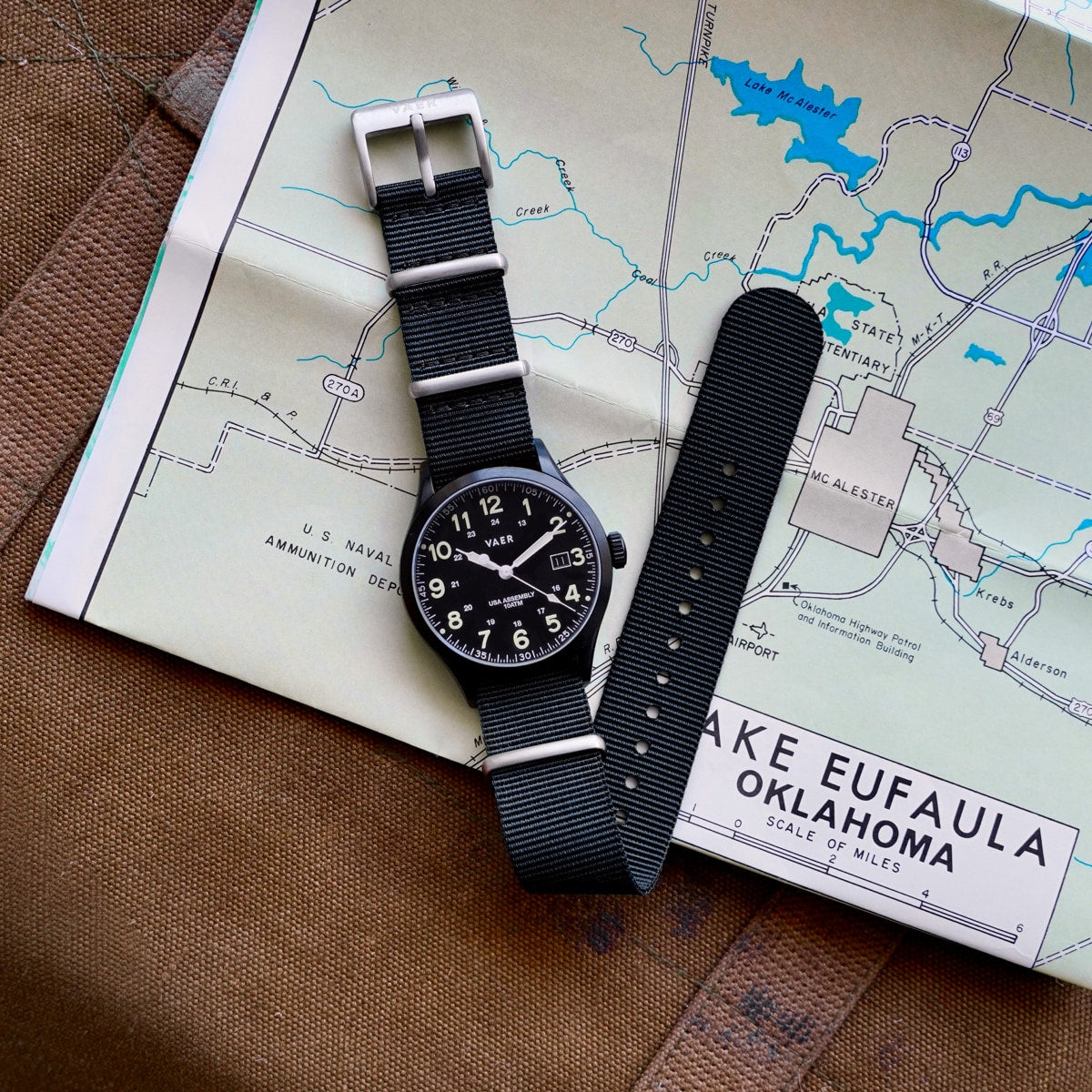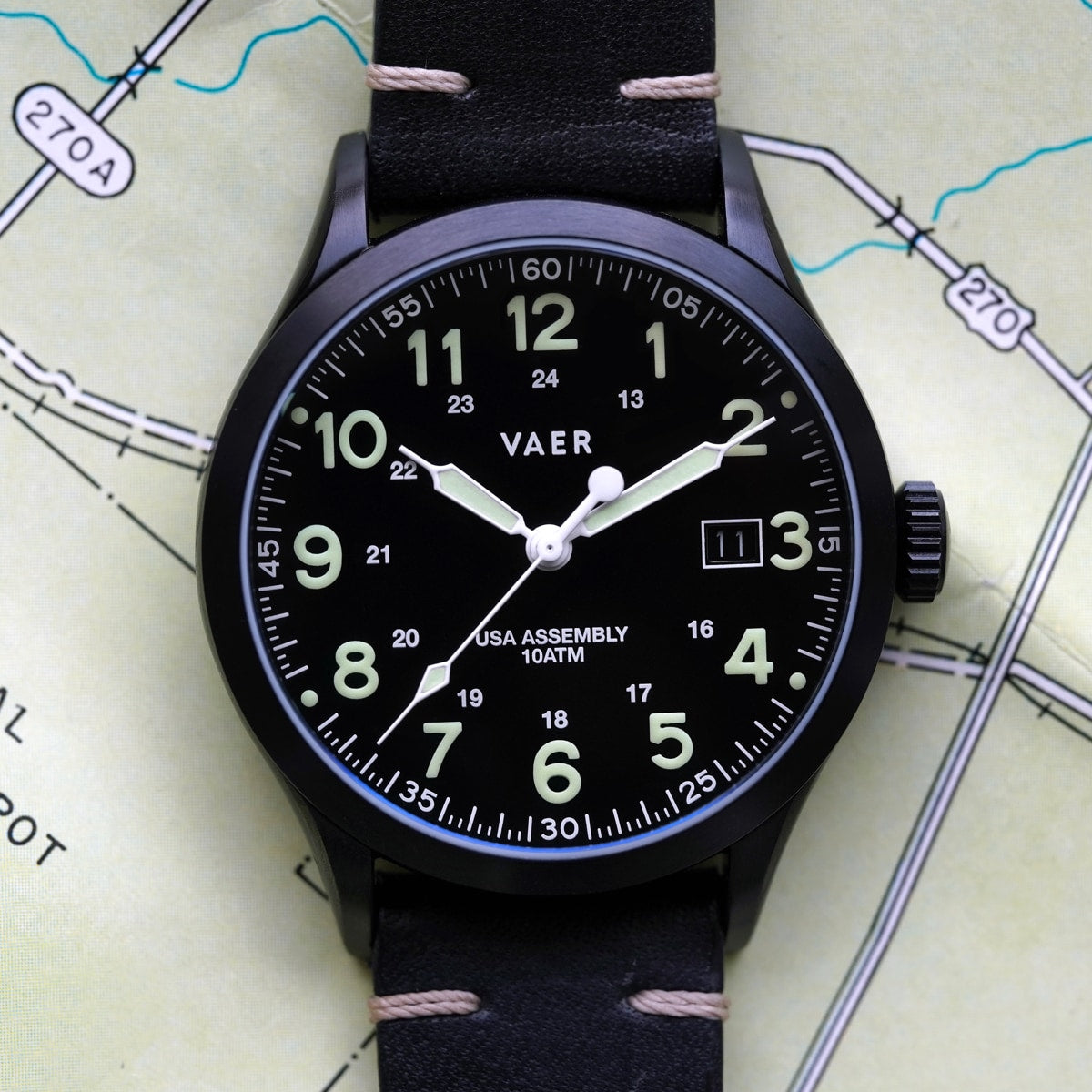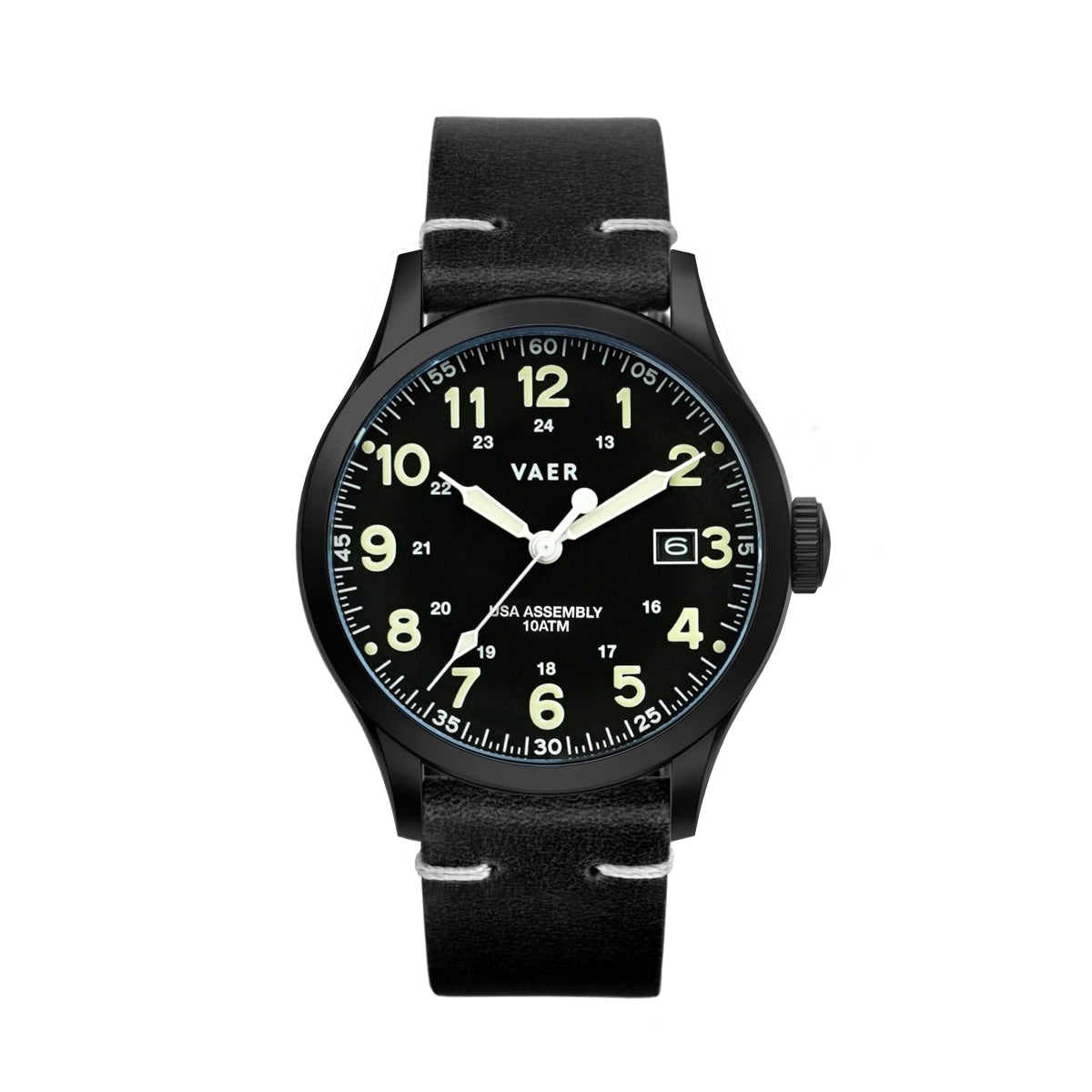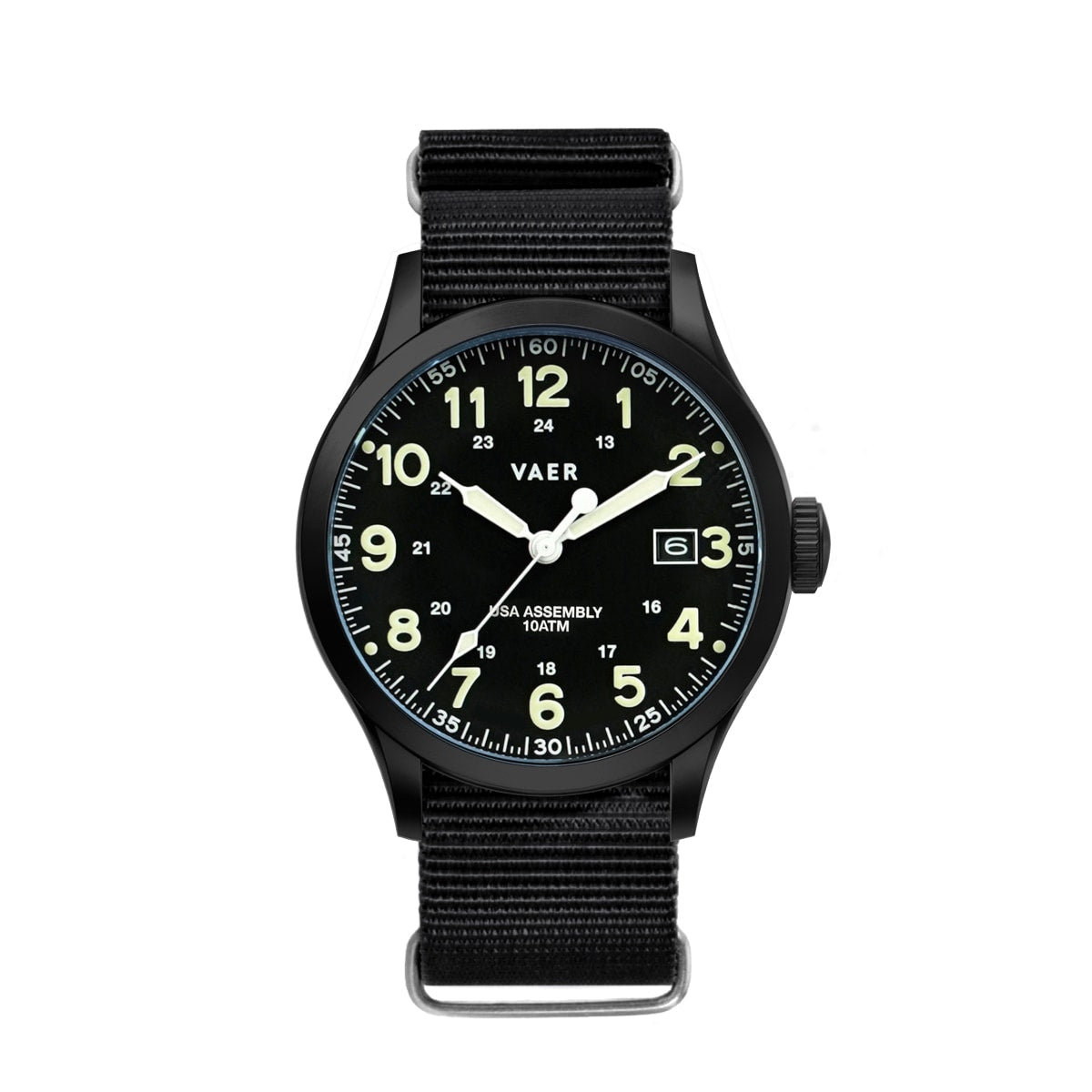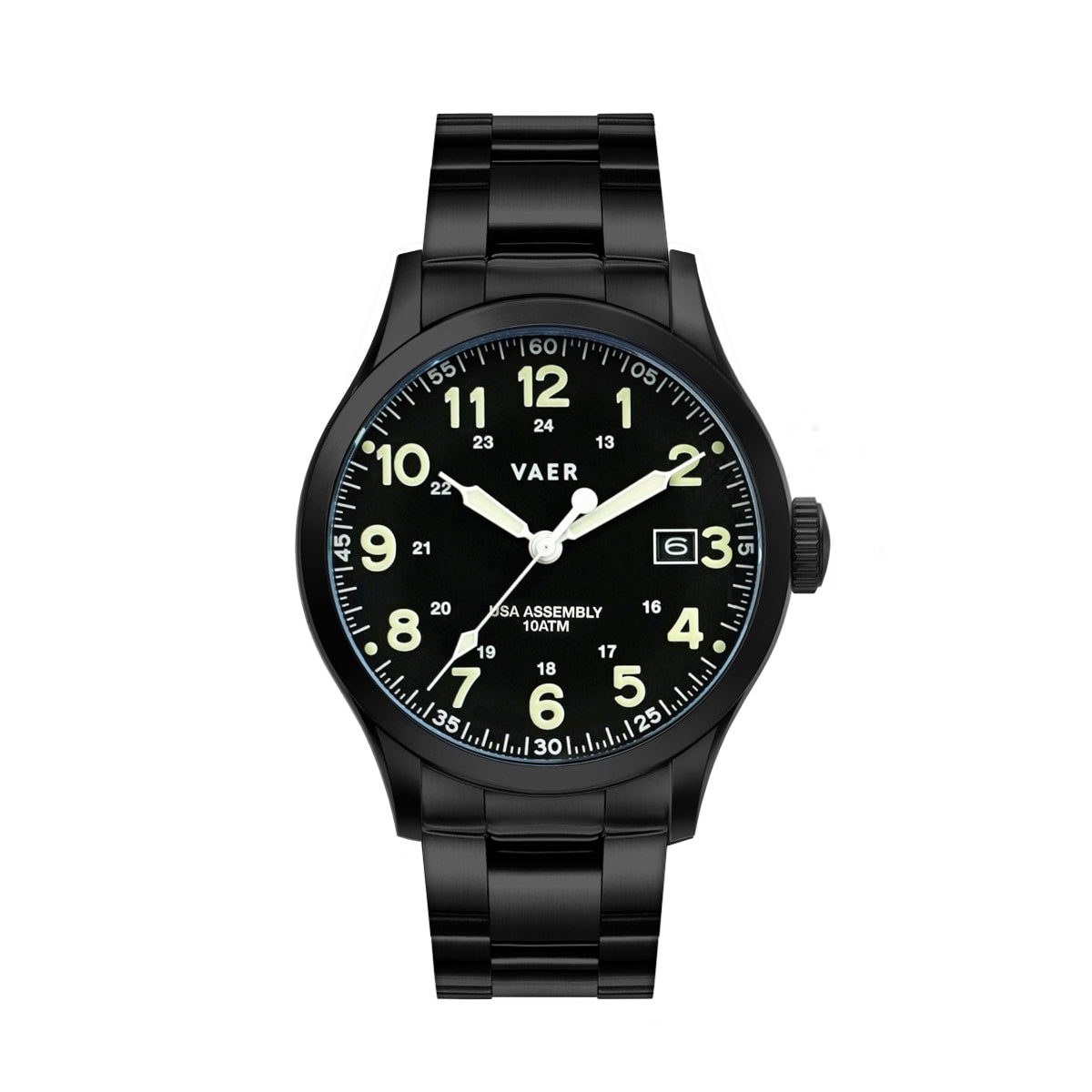 ---
MOVEMENT & ASSEMBLY

- Solar Power
- Epson VS22
- USA Assembly
- 20/+20 sec/month timing tolerance

DIAL & HANDS

- Vaer Lume Performance Rating = 8/10
- This model has strong glowing lume paint
- The dial features 20 layers X1 Grade W20 SuperLuminova
- The hour, minute, and second hand also has W20 lume.

ADDITIONAL DETAILS

- 2-year guaranteed waterproof warranty
- Interchangeable straps (20mm)
- Straps compatible with all Vaer watches
- Steel Bracelet is custom fit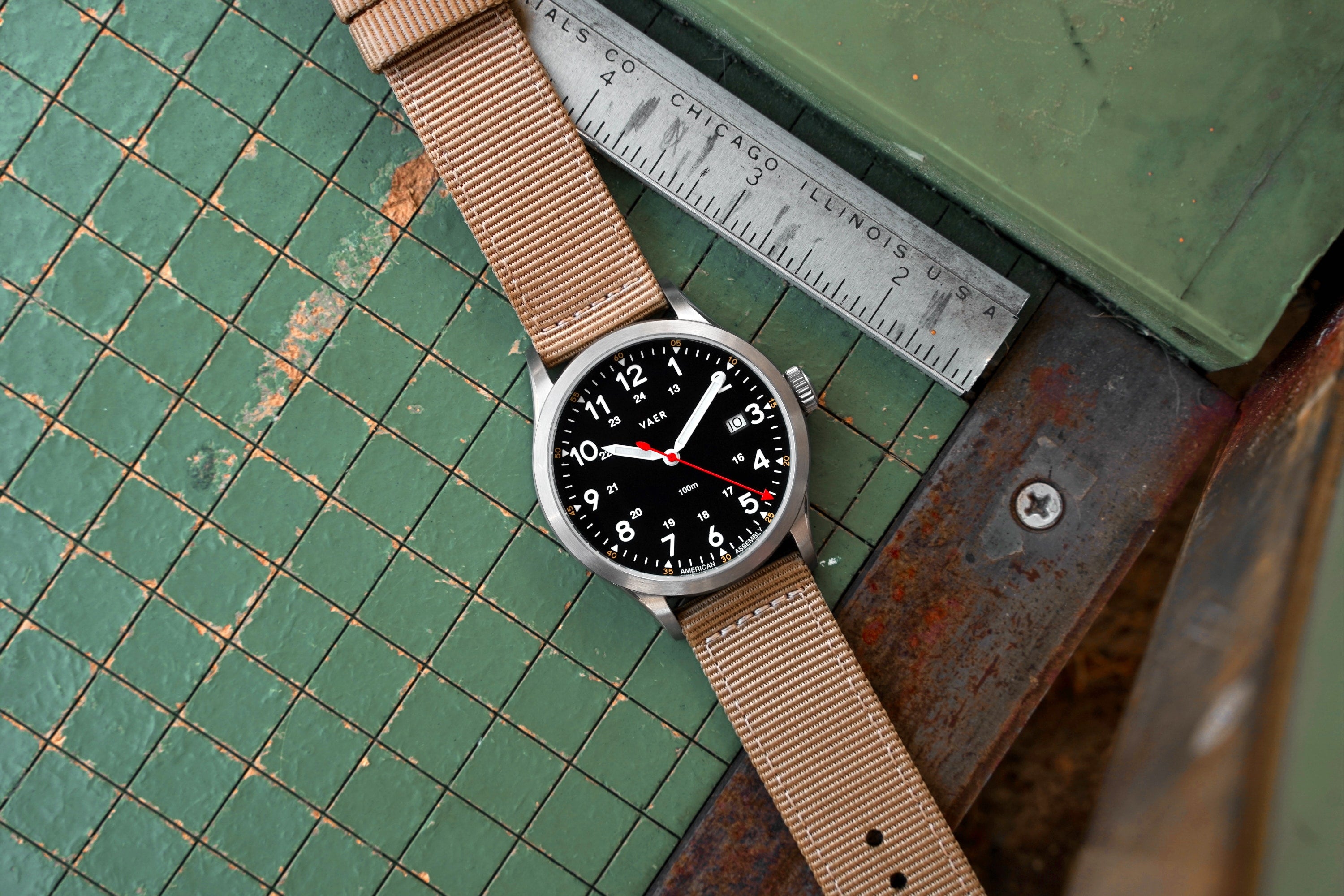 The Ultimate Guide to Solar-Powered Wristwatches
Read this article to dive into the world of solar watches, explore how they work, and discover the five top reasons that make them the perfect companions for everyday wear.
Read the article "The Best Solar Watches to Harness the Sun to Power Up Your Style"
Shop Solar Watches
View all
On sale
On sale
On sale
On sale
On sale
On sale
On sale
On sale
330+
Feet of Water Resistance
Our watches are perfect for swimming, surfing and diving.
5,500+
Five-Star Reviews
Our success has been built on delivering exceptional value to our owners.
Shop Solar Dive Watches
View all
On sale
On sale
On sale
On sale
On a Budget?
Our S-series collection serves as an introduction to Vaer durability at more accessible price point. Equally tough as our other models, these watches cost less because they are not assembled in the USA.
View all
On sale
On sale
On sale
On sale
Sold out
Sold out